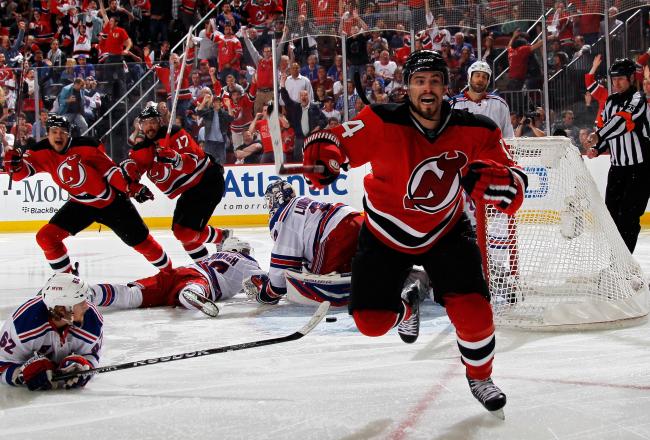 Fans and players alike rejoiced on Sunday as we saw the end to the 2012-13 NHL Lockout. It only took 113 days for us to get back the sport we all love. It is a long and slippery slope in getting the fans back interested in the sport and to fix all the damage they did with the petty arguments that lost all of our teams thirty-four games a piece (510 games in all). That isn't where I want to go today. For once, I will let the mainstream media deal with the negativity. Today, finally, lets talk hockey.
The Atlantic Division once again looks like it is prime and ready to be the best of all the divisions. Last year, everyone but the Islanders going over one hundred points for the season. The New Jersey Devils ended up taking out the Philadelphia Flyers and New York Rangers on their way to a Prince of Wales Trophy. All these teams saw big changes in terms of player movement. Some are riding young stars and some put together super teams to try and win it all. Pittsburgh is still a great team with Sid the Kid and Malkin manning the first two lines. They all have high expectations and large question marks. We will get into every one.
New Jersey Devils-
48-28-6 4th in Atlantic Division, Lost to LA Kings in Stanley Cup Finals
Biggest Acquisition:
RW Bobby Butler
Biggest Loss:
RW Zach Parise
Overview:
The Devils find themselves in an interesting spot in the 2013 season. On the one hand, they are coming off a Stanley Cup Finals appearance and a season where many young stars emerged as the future of the team. On the other hand, they lost their franchise player in Parise in the offseason to the Wild. The Devils chances in 2013 all have to do with development. Will David Clarkson continue to improve following a thirty game season? Will playoff hero Adam Henrique continue to be a threat without Zach Parise to his right? Will Adam Larson turn into the big game defense man they have been searching for since the Scott Stevens/Scott Niedermayer era?
The Devils did a good job this offseason signing most of their free agents back for multiple seasons. They brought back both their veteran goaltenders in Martin Brodeur and Johan Hedberg. What they can bring to the table this season will have a lot to do with their success in the long haul. They re-signed defense man Bryce Salvador and Mark Fayne, and brought back the "fourth" line of Stephen Gionta, Steve Bernier and Ryan Carter, all of whom were integral parts of the Devils run to the Stanley Cup (minus Bernier's blunder in the sixth game of the Finals). Bobby Butler, the most exciting of the offseason acquisitions, is tearing it up for the Devil's minor league team in Albany which has New Jersey fans excited. All in all, the Devils are right where they always want to be, under the radar.
Biggest Question Going Into The Season
:
Will they trade one of their defense man for a star forward?
There is talk that the Devils need to trade one of their defense man for a forward to replace Parise. New Jersey is going into the season with eight defense man with room for only six. The players you won't see move are Larson, Salvador, Fayne, Andy Greene, and Anton Volchenkov. That leaves Henrik Tallinder, Marek Zidlicki and Peter Harrold left. Of those three I believe that Harrold will be the one most likely to go. Unfortunately for the Devils, he won't get the kind of forward this team needs in order to replace the production of Parise. Will the Devils part with one of the big name defenders to get a high profile forward? I doubt it. That hasn't been how Lou Lamoriello does business and Peter Deboer seems to be more defense first in terms of roster.
Analysis:
New Jersey is at a crossroad season right now. Either their young guys will step and and play like they did during the playoffs last year, or will the Devils be forced to take a step back? The Devils are one of the biggest question marks going into this season. They are running out of time with future Hall of Famer Marty Brodeur in net. They need to be in a win now mentality after seeing with the Flyers and Penguins what happens when you have questionable goaltending. The question is, are they?
New York Islanders: 34-37-11 5th in Atlantic Division, Missed Playoffs
Biggest Acquisition:
D Matt Carkner
Biggest Loss:
RW PA Parenteau
Overview:
There is an amnesty clause in this year's CBA! So (hopefully) the Islanders can finally get rid of that hole in their side contract of Rick DiPietro's. Besides that, there isn't much hope for the Isles in 2013. They are in the hardest division, but they hardly got better. They still have one of the better players in the league in John Tavares, but that is about all they have right now. Matt Moulson had a good season as he continues to develop. He was one of only two regular players to have a +/- that was positive. They have young talent, but they need more veterans in this group to improve that situation.
The Islanders will have trouble competing with the likes of the Devils, Rangers Penguins and Flyers. If they were in a weaker division, their talent may be able to keep them afloat. In the Atlantic, they are going to drown. Look for the Islanders to come in last again, but they will do it while developing their young talent. Look for the future of this organization to be on display. The Isles are looking forward to playing in front of that Brooklyn crowd in a few years.
Biggest Question Going Into The Season: What are they to do about their goaltending situation?
The Islanders had five goaltenders play multiple games in the 2011-12 season. Evgeni Nabakov and Al Montoya took the brunt of the workload playing in forty-two and thirty-one games respectively. They need to have a definite starter in goal to progress throughout the season. Hopefully they will be smart and make Rick DiPietro expendable by using the amnesty clause, but this is the Islanders they could just skip it. Nabokov was by far the best of the bunch, sporting a .914 save percentage and a 2.55 goals against average. If he can stay healthy all season and repeat the stats he put up in 2011-12, he should be the starter going forward for this team. Nabokov has played in the Finals and can show the younger goalies on the roster how to be the best goalie possible.
Analysis
: It is not going to be sunshine and rose petals for the Isles this season. Expect a lot of losses, but progress nonetheless. They are too young to compete, yet their youth is something to get excited about. Keeping John Tavares happy should be the number one priority since he is the future of this franchise going forward. Another year, another season of Long Island mediocrity.
New York Rangers: 51-24-7 1st in Atlantic Division, Lost to Devils in Eastern Conference Finals
Biggest Acquisition:
LW Rick Nash
Biggest Loss:
C Brandon Dubinsky
Overview:
The Rangers are the hockey version of the Miami Heat. Plain and simple, the Rangers have the most talented team in the NHL. The Rangers were the best team in the Eastern Conference during the regular season, and they got better. They basically stole Rick Nash from the Bluejackets and they have Chris Kreider for an entire season. Add that to an already stacked team including Henrik Lundqvist, Marian Gaborik and Brad Richards, the Rangers have been winning free agency for the past couple of years. That has not turned into hardware for New York, however. Is Rick Nash what this team needs to get over the hump?
There is no doubt that the Rangers will have great defense with a lot of goals scored, so where are the weaknesses? On paper, they are hard to find. They have solid defense, great offense, and top three goaltending in the league. What are the Rangers missing that will hurt their quest for a cup? Not much can stand in the way of this team becoming a power house. Barring an injury to one of their stars, they should lead the league in scoring and should be tops in the East once again. They have young talent, mixed with veterans, with a good coach and the fire to bring the first title to New York in nearly twenty years.
Biggest Question Going Into The Season: Will the lockout shortened season give the Rangers any time to produce chemistry?
The Rangers have one thing going against them, how will all the new parts fill in to a team that has had a hard time finding the right chemistry? There will be no training camp to get that commraderie. There won't be as many practices. They have to become a team while playing others that have had their core together longer. Sure, the Rangers will string together many wins because they will just have superior talent over other Eastern Conference teams, but when the playoffs roll around which team will show up? They have a lot to play for this year. Will Gaborick finally figure out how to fit into the scheme that John Tortorella has drawn up for him? Gaborick gets a lot of goals and points, but it just doesn't seem to come when they need it. They need to get their power play working better as well. Chemistry is the one thing that turns a power play unit from mediocre to stunning. The Rangers have the talent to win it all, they just need everyone to work together for the same goal.
Analysis:
The Rangers will take themselves as far as they want to go. They will be in the hunt for the number one spot in the conference the entire season (if not holding it all season). They will be the team with the biggest bulls-eye on them the entire season. Every team they play will have them circled on their calendar as a game they want to win. If the Rangers learn to put their egos aside and play as if to display their teammate's skills then this team will be unstoppable. If they sit back and try to win on straight talent then lesser talented but better pure teams will learn how to beat them. This is a make or break year for New York. Their fans are in win now mode. After coming so close last year and losing in the fashion they did they can taste a championship. If this season produces anything less then it will be considered a failure. It is Canyon of Heroes or Bust for hockey at MSG.
Philadelphia Flyers: 47-26-9 3rd in the Atlantic Division, Lost to Devils in Eastern Semifinals
Biggest Acquisition:
Luke Schenn
Biggest Loss:
Jaromir Jagr
Overview:
The Flyers young guns stepped up in a big way in 2011-12. Claude Giroux established himself into a bonafide NHL star. Matt Carle, Matt Read and Wayne Simmonds progressed immensely last season and the trade that brought over Luke Schenn just made a good defense better. The Flyers are ready to win now AND in the future. There is only one issue, Ilya Bryzgalov. The Flyers are stuck with a 5.6 million dollar cap hit for the next eight years for inconsistent goaltending. It is the same thing that the Flyers have been dealing with since losing Ron Hextall, they can't find the big game goalie to take them far. They took down their arch rival in the first round in a shootout in which they scored thirty goals in the six game series. They ended up allowing twenty-six goals to the Pens in that series. In the next series the Flyers were favored by a lot against what most thought was an overmatched Devils team. They ended up losing in five games, only scoring eleven goals in those five games. This series showed the biggest hole in the Flyers game.
The Flyers did their best to make big moves during the offseason, literally going after every big name player possible. They whiffed on every single one. Missed on Zach Parise, Shea Webber, Alex Semin, etc, and in the end they failed to make up for the production they lost from Jagr and Van Riemsdyk. This team looks to be in good position to do some damage, but they may fall off some from last year. They need to possibly take a chance on one of the guys who get amnestied to try to give them some lucky production, similar to what they received from Jagr last year.
Biggest Question Going Into The Season: Will the Flyers go forward because of the progress of young players, or backwards because of lost talent?
It is a question that will be hard to answer in a year like this. Most of it has to do with how the young players deal with the grind of a lockout shortened schedule. If they play like they did last year, or better, then expect this team to go to places that will finally make Philly a happy hockey town. If not, then it may be a fourth place finish in the Atlantic. This team has too much talent to miss the playoffs, but in such a stacked division there is very little room for error. They need to make up for weaknesses (again, only glaring one is goaltender) and play to their strengths. Their biggest problem was getting sucked into the game plan of the other team. We saw that in the playoffs with the score fest against the Penguins and the fore checking of the Devils. Hopefully this team learned a lot from those series. It will be crucial for this team going forward.
Analysis:
The Flyers are going to be hard to predict. They still are without their captain in Chris Pronger and it looks more and more like he has played his last game in the NHL. They have too much young talent to predict which way they will go. I wouldn't be surprised if they just made it into the playoffs as a seven or eight seed, and I wouldn't be surprised if they got the number one seed in the conference. The Flyers will go where their young talent allows them to. Depending on the schedule, they could be great. They could scare the rest of the league as to what they have to look forward to for the next few years. Then again, they could just play like they did in the 2012 post season.
Pittsburgh Penguins: 51-25-3 2nd in the Atlantic Division, Lost to Flyers in 1st round
Biggest Acquisition:
Brandon Sutter
Biggest Loss:
Jordan Staal
Overview:
The Penguins are still a juggernaut team. They have quite possible the two best players in the NHL in Sidney Crosby and Evgeni Malkin. They can score at will and they have a decent defense to back themselves up. They were man analyst's favorites going into the playoffs last year, only to be bumped in the first round by their cross state rivals in Philadelphia. The Penguins seemed to lack the toughness that the Flyers brought to the table. Crosby now has a full season under his belt after the post concussion syndrome and the Penguins have a stud winner in the making with James Neal. They seemed to have their hand forced in regards to trading Jordan Staal to the Hurricanes (it is said the Penguins offered the same exact deal he got with Carolina). The fact of the matter is that the Penguins are stacked offensively. They may be the only team in the league that can score with the Rangers. The only difference is, the Pens have a lot of people on their team that have won before.
The Penguins are a team that seems to genuinely like playing together. They have some of the best chemistry of any team in the National Hockey League. This team is built to do damage in the playoffs year after year. There are some question marks going into 2013, however....
Biggest Question Going Into The Season: Which Marc-Andre Fleury are we going to see moving forward?
That may have been the absolute worse performance I have ever seen in the history of sports. I am not kidding, I was embarrassed to be a hockey fan watching Marc-Andre Fleury ruin any chance the Pens had of advancing. He was atrocious. Need I go on? Think I am being too harsh? In that series, he had a 4.63 goals against average. This means they score close to five goals a game! Still think the stats are inflated to look bad? His save percentage was .834. Seventeen percentage of the shots that were taken on him went into the net. Dwayne Roloson was the worst goalie in the league during the regular season and he still had a .886 save percentage. So the question is, will he be able to bounce back? Is this what we can expect after eight years as a good goalie? Fleury has been known to be streaky, but how does a man come back from such a bad performance? If he has a short memory and can come back as the goalie of the regular season we will see a great race atop the Eastern Conference. If we see the playoffs version of Fleury we may end up seeing too much Tomas Vokoun for Pittsburgh fan's liking.
Analysis:
The Pittsburgh season is in the hands of their goaltender. On this team, he does not need to be Patrick Roy to go far, but he does need to be serviceable. He needs to be MUCH better than he was in the playoffs. The loss of Staal will hurt, but not enough to be noticeable. There is too much offense on this team for one guy to make or break it. The Pens played most of last season without Crosby and didn't seem to miss a beat. No offense, but Staal isn't Crosby. The point is that Staal's absence can lead to young players like Tyler Kennedy and Eric Tangradi to step up and make a difference. I see this team going very far once playoff time rolls around. The performance of Fleury is a spectacle that will not be repeated.