We are moving west with our ongoing NHL preview. The Central is stacked with great teams. They were the only other division besides the Atlantic to have four teams have over 100 points. In fact, this was the only time since the NHL went to six divisions in 1998-99 that a division had four teams go over 100 points. This division is great, and seems like it is only going to get better. St Louis may have the TWO best goaltenders in the sport. Chicago has one of the best cores in the league. Detroit is Detroit, they are always good. Nashville is a team that people love to pick as a dark horse candidate to win it all and showed last year they can go punch for punch with someone. Then there is Columbus who, well, shows up to the games.
There will be arguments over which division is best. Is it the Atlantic who has a handle of the tri-state area? The Pacific who holds really good teams on top of the defending champs? Is it the retooled Southeast Division? None of them compete with the depth of the Central. I understand that this is a bold statement, but I truly believe this division can be
better
than last year. I have a very good chance of this prediction blowing up in my face. This Division has a lot of holes and question marks. So why make the bold statement? They have shown me before that they can do it. For the most part, this is a veteran division. You are going to need veterans to get yourself in the mindset to have amnesia. What I mean by that is once something bad happens, you immediately forget it. You cannot afford to go into a five game slump when that is more than ten percent of your season. As long as the veterans can stay on the ice (possibly a tall task), there will be a lot of wins coming out of the Central.
Chicago Blackhawks: 45-26-11 4th in Central Division; Lost to Coyotes in First Round
Biggest Acquisition:
D Michal Rozsival
Biggest Loss
: D Sami Lepisto
Overview:
The Blackhawks had the quietest of offseasons. That could be a good thing or a bad thing depending on how you look at it. On one hand, they came in fourth in the division and lost in the first round of the playoffs. They seem like they needed something to get their offense going. They were completely taken out by Mike Smith. On the other hand, they haven't lost anyone on 101 point team. The only loss they had was a third or fourth line defenseman who they replaced two fold with Rozsival and Sheldon Brookbank. Like I said, it has been quiet in Chicago. There are many places where they could have added players.
They still have a very balanced offense. They have their superstar in Marian Hossa. They have their franchise players in Jonathan Toews, Patrick Sharp, and Patrick Kane. They have a decent defense and will have a great defense if Duncan Keith can finally get back to the form he had back in the year the Hawks won the Cup. They really need to get better at special teams. They were near the bottom in both power play (26th in the NHL in 2011-12) and penalty kill (27th). These are areas they have to at least get back to the middle of the pack to stay competitive. They were tied for fifth in goals per game so that clearly was not an issue for them. The number one aspect of this team was they never quit. They won over 41% of their games when they weren't the team who scored first. That is a good stat for Chicago as their tenacity would not let them give up on any game.
Biggest Question Going Into The Season: Are you going with Ray Emery or Corey Crawford to take you to the next level?
The biggest question mark going into 2013 for Chicago is how is the goaltender position going to fair going forward. Neither Crawford or Emery impressed in 2012. Crawford posted a .903 save percentage while Emery posted a .900. The Blackhawks are going to need to have a primary goaltender to survive this 48 game schedule and to go further in the playoffs than they did last year. As of now it looks as if Crawford is going to get the nod to start the season as the number one, but Emery will be a close second. We have seen nothing but inconsistency from Crawford in 2012-13. He had a stellar year the season before, but if the guy they saw last year is the player he is then we may see more of Emery, although he has had an entire career of inconsistency. The player who takes this job for good needs to play out of his mind for this team to go to where Chicago expects them to be. Years like last year are not acceptable. The front office needs to be sure that they have their guy in house, or the backlash on this team will begin sooner rather than later.
Analysis:
The Blackhawks have a potent offense and a so-so defense. They are going to have to rely on scoring to get where they want to be. They were too quiet during the offseason to believe that this is the team that they are going to end the season with. I expect something huge to happen on this team. Maybe a big offensive name for a big defensive name. They seem to have a lot of faith in the future of Corey Crawford. The team will still give Emery looks, especially with the schedule contorted the way it is. Chicago will still be dangerous as always. They have too many stars in their prime not to be. They have some work to do to catch up to the depth of St Louis, but with the right system and a fell winning streaks they could steal this division from underneath everybody's nose. There are question marks, but the answers may not be the worst you can think of. Look for Chicago to be a happy town once hockey is back.
Columbus Blue Jackets: 29-46-7 5th in the Central Division; Missed the Playoffs
Biggest Acquisition:
C Brandon Dubinsky
Biggest Loss:
RW Rick Nash
Overview:
Attention all Blue Jacket fans! You may be thinking that this season may be all doom and gloom and that you shouldn't even watch a game because there is nothing to see. Well I have news for you, it isn't as bad as it looks. (It is still bad though.) You traded away your franchise player in Rick Nash. You don't have any players that their names exactly jump out at you. This is a team with spunk. They have a future all star first line on defense with Jack Johnson and James Wisniewski. They made moves to help this team and are going to be tenacious offensively. Receiving Dubinsky and Artem Anisimov in the Rick Nash trade proved that the Blue Jackets will go in a direction of aggravating opposing offenses into making mistakes. They have the kind of team that will not quit on the season. This is going to be a better team than is laid out on paper.
The problem is that they play in one of the best divisions in the league. With a shortened schedule that just means that a greater percentage of the team's games will be against the four teams in their own division. The future is what you are looking at in 2013. The core of the team is decent. They have a team that will fight for every possession. They are going to need to win games with heart and effort as they cannot win on their talent. They have good character guys in this locker room and if they can somehow come together then they can do some damage and play spoiler to the big teams who reside in their division.
Biggest Question Going Into The Season: Is it time to give up on Steve Mason?
Yes. Do we really need to elaborate? In sports there are enigmas in which a player has one great season and then disappears forever. It happens. When you have a 33-year-old minor league journeyman goalie who has never started more than 35 games for any NHL team come in and he thoroughly outperforms your starter to the point that he become somewhat of a savior, well then you have a problem. They brought in Sergei Bobrovsky to serve as a backup, but he will never truly amount to anything more than that. Bobrovski is looking like he has the same career trajectory as Mason. He comes out of nowhere in his rookie year to post crazy good numbers and to lead his team to heights they didn't know possible. Then in the following year his numbers are truly terrible. Mason caught lightning in a bottle in the 2008-09 campaign when he came in as a rookie and carried this Blue Jacket team to its first ever playoff appearance. He went 33-20-7 in that season with a .916 save percentage and a 2.29 goals against average. The next three years combined he was 60-73-19 with .899 save percentage and a roughly 3.00 goals against average. His shutouts have gone from 10 in his rookie year, to 5 in his sophomore season, to 3 the next year, and then finally a whopping one last year. Those numbers are not anywhere near where they need to be to make this team competitive. This is the last year of Mason before he becomes a restricted free agent. Maybe it is time for a change of scenery on both sides.
Analysis:
At the end of the day, it is still the Blue Jackets. They are going to be better on the ice than they look like they will be on paper. As with most struggling teams, goaltender is going to be a big issue. They need to fix that before they can grow as a team. Mason seems to have lost his confidence for good. Maybe it is time to give Bobrovski a shot. You have a good young core who can give opposing offenses fits. You cannot have a goalie who gives up easy goals. As a young team, they need to put a few memorable wins together to gain confidence in themselves. The beginning of the season will tell it all for Colombus. If they can string together a few wins to start the season off they can surprise a few people. If not, they might possibly be the worst team in the league.
Detroit Red Wings: 48-28-6 3rd in the Central Division; Lost in first round to the Predators
Biggest Acquisition:
RW Mikael Samuelsson
Biggest Loss:
D Nicklas Lidstrom
Overview:
This team has a lot of loss to fill. For one, they lost their long time captain and their rock on the defensive side in Lidstrom. There is still no timetable as to when they will be able to get back RW Patrick Eaves, if at all at this point. Eaves developed a concussion early last year in a game against Nashville and is still recovering. On top of these unavoidable losses, they watched twenty-five goals go to the Calgary Flames in the name of Jiri Hudler. He leaves a glaring hole in the offense behind in which the Wings needed to address. Jimmy Howard had one of the better seasons of his short career. He bounced back from a down year the season prior and posted stellar numbers. In case the injury bug catches Howard again, then they have Jonas Gustavsson, who came over from the Maple Leafs, to back him up.
They brought in Samuelsson and Jordin Tootoo to replace some of the offense they lost during the offseason. Detroit lost 105 points through the four players they lost to free agency/trade/retirement (Lindstrom, Hudler, Brad Stuart and Chris Conner. They added 77 points through free agency (Samuelsson, Tootoo, and Carlo Colaiacovo). They are still bringing back most of a crew who was seventh in the league in scoring. They were also seventh in the league in goals against average. Detroit may be the team to beat in this division. They bring back an offense that includes Johan Franzen, Henrik Zetterberg, Todd Bertuzzi, Pavel Datsyuk, and Valtteri Filpula among others. Hockey town will enjoy another pleasant season, even though this one will be shortened.
Biggest Question Going Into The Season: How do the Wings replace the void left by Nicklas Lidstrom's retirement?
He is a four time Stanley Cup Champion, a seven time Norris Trophy winner, a Conn Smyth winner, a twenty year veteran, with eleven being all star seasons, there is just no replacing a man of Lidstrom's caliber. The Red Wings need to find a way to move on. They swung and missed on every big name defenseman on the market. Ryan Suter was the biggest target for Detroit this year, but he spurned them to go play with Zach Parise in Minnesota. They went after Matt Carle, and he went to Tampa Bay. Looked at Dennis Wideman, before he bolted to Calgary. The Red Wings did not do enough to replace one of the best players to put on Detroit red. It sure wasn't for lack of effort, but one has to wonder how one of the best teams in the league falters on so many levels in trying to replace a guy. They made one defensive signing with Colaiacovo from St Louis, but there is more work to be done. Look for Detroit to make a move before the trading deadline (which is reportedly going to be April 3rd according to sources) to see if they can get a top flight defenseman from a bottom feeder of a team.
Analysis:
Detroit is once again going to be a powerhouse in the National Hockey League. They have a great offense with a perfect balance of stars and role players. They have two formidable goaltenders who can win you the game on any given night. Their only question mark is how will the defense do without Lidstrom. The Wings have been great at drafting forwards the past couple of years, maybe they have a defenseman they are ready to unleash to the world (maybe Brendan Smith). Point is, they are going to be good. Very good, actually. They may fight for the top seed in the Western Conference. They remember what happened last year. They went into the playoffs expecting to just win. They didn't. They will not let history repeat itself.
Nashville Predators: 48-26-8 2nd in the Central Division; Lost In Conference Semi-Finals to the Coyotes
Biggest Acquisition:
D Scott Hannan
Biggest Loss:
D Ryan Suter
Analysis:
Ryan Suter, Alexander Radulov, Jack Hillen, Francis Bouillon, and almost Shea Weber, the question you are looking for is "Who are the defensemen that Nashville lost to free agency in 2012". That is an astounding list. They literally almost lost their entire defense in one year. They were one day to losing Weber to the Philadelphia Flyers if it wasn't for their decision to pull the trigger (a necessary decision by the way) and sign him for the offer sheet of 14 years $110 million. They also held onto Mike Fisher (AKA Mr Underwood) who was an integral part of their offense since coming from the Senators in 2011. They had a busy offseason, that's for sure.
Last season was quite possibly the best since the Preds came into the league 14 seasons ago. They weren't exactly the most consistent team, but they kept winning. The advanced stats say that if you continually allow more shots than you take then you are going to have a hard time winning games. Yet, here is Nashville taking out division rival Detroit in a laughable five games. The Red Wings gave everything they had, but Nashville was the last team standing in this series. They have their franchise goalie locked down for the next six years in Pekka Rinne. They have major holes that they will need to address.
Biggest Question Going Into The Season: Is this the year that Shea Weber steps up or gets exposed?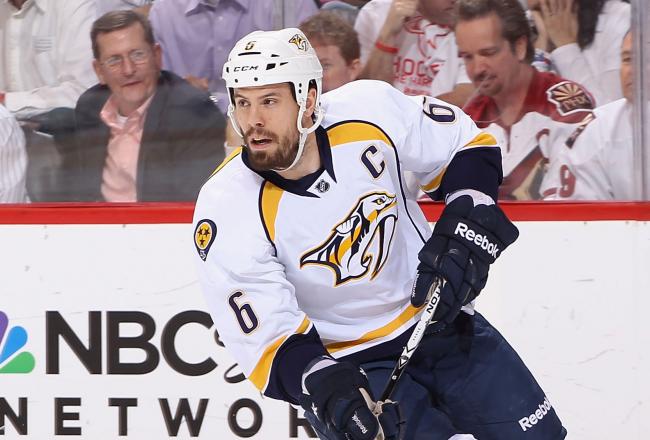 It depends on who he ends up being paired with. For right now it looks like it is going to be sophomore Roman Josi. Josi has all the potential in the world to become a really good player, but I don't see him being ready to replace a guy like Suter (yes, he will be expected to replace him) and Weber will look worse because he is making up for Josi's growing pains. Kevin Klein was also considered to be a player who could take Suter's place on the top line. I feel like this is a better fit. Klein has more experience than Josi and showed in last year's playoffs that he has the ability to play under the bright lights. Klein may not have as much talent as Josi, but he will make less mistakes that Weber will have to pay for. Either way, whoever he is paired with Weber is going to need to step up his game more than ever. He wants to show that he was the one who carried the duo. He needs to show the Nashville faithful that they made the right decision by matching the 14 year offer. If he doesn't then it will be a long fourteen years because he will be considered one of the worst signings in history. Nobody wants to have that distinction.
Overview:
It just seems like this team is destined for a drop off. They were 25th in the league in shots per game and 20th in shots taken against them. When teams are taking three shots per game more when you have arguably the best defensive pairing in the game, what will they do when you don't anymore? Expect a drop off from this Nashville team. They may have a chance to sneak in the playoffs, but don't see them having the success they had last season. They still have one of the better goalies in the NHL, so he can win enough games for them to stay competitive. The team in front of the goaltender needs to play at their best to win games. The forwards need to score more goals then they did last year. They had a very balanced attack, which is good, but they need someone to shine and become THE guy. They need Weber to have the best year of his career even though he will be under the most scrutiny of his career. There are a lot of needs in Nashville. By the middle of the season they may need it to end.
St Louis Blues: 49-22-11 1st in Central Division; Lost in Conference Semi-Finals to Kings
Biggest Acquisition:
C Andrew Murray
Biggest Loss:
D Carlo Colaiacovo
Overview:
The Blues were the biggest surprise in hockey in 2012. They went from finishing 2011 in tenth place and ten points behind a playoff spot, to being the number two seed in the Western Conference. How did this happen? They found the best tandem of goalies in the history of the league. St Louis was reeling and Jaroslav Halak was sinking the ship. His early season struggles caused the team to turn to Brian Elliott and swap coaches. Ken Hitchcock came in and it seemed he gave miracle potion to Halak because he was a different animal. At the end of the season as a duo, Elliott and Halak recorded a combined 1.78 GAA and a .932 save percentage. Those are astronomical numbers. Can they be repeated? Only time will tell, but it is highly unlikely that both goalies fall off at the same time.
The Blues did not make many moves over the summer. With only a few new faces there will be pressure on the defense once again in 2013. Looking at the St Louis defense, they didn't have any player who qualified (at least 20 games played) have under a +6 +/-. They were also ranked seventh in the NHL in penalty kill. This team is built the exact opposite of the other teams in their division. They are built on preventing the other team to score. Alex Pietrangelo will look to play off his breakout season last year and will look to lead a defense that lead the league in least goals allowed per game.
Biggest Question Going Into Next Year: Where will the offense come from?
This may be the question with the most possible answers. Nobody on the team reached the thirty goal plateau. David Backes led the team with twenty-four goals, but we have seen he has the capability to score over thirty. He can provide the scoring threat for this team. TJ Oshie had his coming out party and is looking to grow off of last season's success. He will be looking to earn his brand new five year contract. Someone will need to step up to replace the production of veteran center Jason Arnott (unless they resign him as he is still a free agent). Two players they need to show they still have some offensive skills is Jamie Langenbruner and Chris Stewart. Langenbruner put up a paltry six goals all season. Even though he has grown as a leader on this team he needs to at least put up double digit goals to be a useful part of the team. Stewart was coming into the season with high expectations after signing with the Blues in 2010. He never really reached the expectations that Blues fans thought he could obtain. They need the Stewart from 2009 to rear its head. Two wild cards are KHL signing Vladimir Tarasenko and rookie Jared Schwartz. Tarasenko is coming over from the KHL after scoring 31 points in 31 games with SKA St Petersburg. Those eye-popping numbers are causing people in St Louis to think they have the future of hockey in their laps. Schwartz was the Blues number one pick in the 2010 draft and he is described as a "smart" hockey player. This duo is the future of this franchise and may be the reason why the Blues stay atop this division.
Analysis:
The Blues will win this division again. That is my prediction. They have an outstanding defense, the best statistical goalie tandem ever, and an offense that can only improve (and will improve). The Blues are going to be very good in 2013. They have equal parts young legs and experience. They now know what it is like to win and lose in the playoffs. They had a taste in 2012, and will definitely want to improve on that postseason berth of last year. Stewart will be better. Tarasenko may not be as good as expected, but he will be good enough to make an impact. They will find offense from all four lines. Their defense will lock down the big offenses in the Central. This is the reigning Central Division champ, and they are the team to beat.