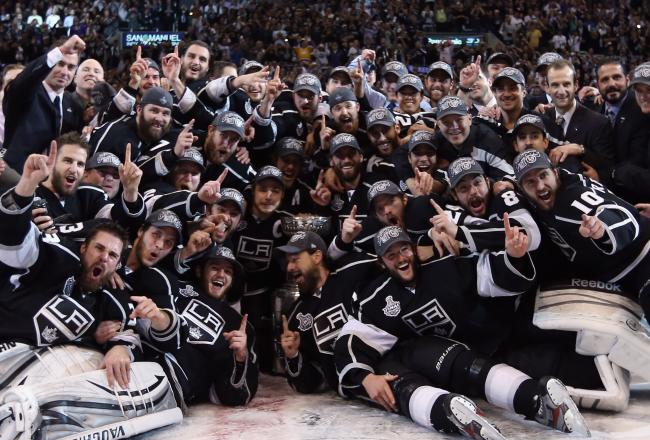 We have come full circle. The hockey season is starting today and we are on our last division preview. This division last year went down to the wire. The top three teams ended up within three points from each other. They beat up on each other for the entire season. The funny thing is that they were said to be the worst division, yet the two teams in the Western Conference Finals were from this division. The team who won that game ended up going on and winning the Stanley Cup. They were criticized and chastised, but they persevered at the end.
You are looking at a division that has one of the better regular season teams of the decade in the Sharks, a team that used free agency to get a lot better in the Stars, a team that was three wins away from a Finals berth in the Coyotes, the Ducks have a recent pedigree of winning going to two Stanley Cups in the past decade and winning one, then you have the defending Stanley Cup champs in the LA Kings. There are many stars in Anze Kopitar and Jonathan Qwick in LA, Joe Thorton in San Jose, Teammu Selane in Anaheim, and Shane Doan in Phoenix. This division will be the most competitive in the NHL. They may not be the best, but they will come down to the very last game before someone is the undisputed winner. The fact that they continue to beat each other may hurt them in the long run. The playoffs may see less of these teams because of the fact they keep beating each other.
Anaheim Ducks: 34-36-12 Last in the Pacific Division; Missed the Playoffs
Biggest Acquisition:
D Sheldon Souray
Biggest Loss:
D Lubomir Visnovsky
Overview:
This is a team that saw almost everyone on the team see a drop in production. Their top three guys say a significant drop in points for 2010-11 to last year. Bobby Ryan notched 71 points in 10-11, and received 57 in 11-12. Ryan Getzlaf had the worst year of his career. He only had eleven goals in 82 games (in his rookie season he scored fourteen in 57 games). Corey Perry saw his numbers go from one of the best players in the game to a very good player. It sounds like a dip that wouldn't hurt the team terribly until you see that he lost forty-eight points from the year before. To get back to where the Ducks want to be, these guys need to play up to their potential. They don't have much depth after their first two lines on offense. They may have to separate that first line to give them a better overall depth and threats throughout their lines.
One thing that was a pleasant surprise was the play of 41-year-old Teamu Selanne. He ended the year with 26 goals and 40 assists. He was the only thing the Ducks could really hang their hat on. They shuffled a lot of players on the defensive side, which may be a good thing or a bad thing. They seem to have been duped when they saw their second round pick from a few years ago (who stayed in college at Wisconsin) bolt for the Oilers after they could not come to terms with Justin Schultz. He was the big body defenseman that this Ducks team needed. Now they have to hope that Souray's resurgence is the real deal and not a one and done. Anaheim has the talent to be one of the better teams in the conference, but it all has to come together unlike last year.
Biggest Question Going Into The Season: Will they keep the big three forwards or trade them?
Getzlaf and Perry are both in contract years. Even with the fact that they could just be rentals for the playoffs, the mere fact that a team gets the chance to sign these two will bring a good package back. Bobby Ryan has been in the rumor mill for two years now. There is talk that he is the one that is most likely being traded. Ryan has a $5.1
million dollar cap hit for the next three years, so if the Ducks want to go into full fledged rebuild mode then they should indeed trade him. I think the moves of the Ducks have everything to do with how the first fifteen games of the season go. If they are doing well then they will stay put and just hope they can resign some of their stars. If they are .500 or under then they will blow it up. Unfortunately, that isn't what Selanne wants on what could be his last season on a hockey rink.
Analysis:
Looking at this team without watching them play says they have a lot of talent. They have three stars that are in their absolute prime. Their season is going to come down to the play of their goaltender. If Jonah Hiller can continue to improve after last year's health scare then this team can contend for a playoff spot. If he digresses or gets injured, then it could be time to rebuild over in Anaheim. This team has talent and has gotten better in the defensive area, but I just don't know if it will be enough to compete with the likes of the Sharks, Kings and Coyotes. The team goes through Ryan Getzlaf. If he is rolling then it comes much easier to Ryan and Perry to put pucks in the net. The Ducks need their captain to have a bounce back year for them to be a team that the Western Conference pays attention to.
Dallas Stars: 42-35-5 4th in the Pacific Division; Missed the Playoffs
Biggest Acquisition:
C Derek Roy
Biggest Loss:
D Sheldon Souray
Overview:
This is a brand new Dallas Stars team in 2013. They saw what could happen once you get into the tournament, and they felt they were so close last year. They went out and got a lot of new players to round out this roster. On top of the blockbuster trade that saw them acquire Derek Roy, they also signed veterans Ray Whitney and Jaromir Jagr to add scoring depth to a team that ranked 22nd in goals per game. They brought in bruiser Aaron Rome to help with the loss of Souray. This season will have a lot of expectations for this Dallas team. They finally have the depth on offense, but how will Kari Letonen fare with a sub par defense that got worse over the offseason? He had a season in which he raised his save percentage while lowering his GAA. Lehtonen was one of the main reasons that the Stars stayed in the playoff race for as long as they did.
To continue towards their goal of making the playoffs for the first time in five seasons this team is going to have to avoid the injury bug. Last year they lost Lehtinon to a groin injury, Alex Goligoski to a broken thumb, and lost Mike Ribeiro, Stephane Robidas and others throughout the season. Injuries are a part of the game, but the injuries the Stars dealt with killed their early season momentum. They need to avoid them especially this year since the schedule is much shorter. The Stars are a borderline team and they need things to go their way for them to make it to where they have been striving for the last half decade. Dallas has made the big name moves and they need them to play as good or better than they expected.
Biggest Question Going Into The Season: Will the constant moving pieces in their offseason hurt their team chemistry?
The Stars have had a lot of moving parts in the past year. Seven current starters did not play more the three games with the Stars last year. That is a lot of players who need to find the chemistry with their current team and new lines mates all around. Fortunately for Dallas, most of those line mates are veterans that are used to playing for other teams. Jagr has played for his sixth team (including KHL after Rangers) and Whitney is joining his eight different team. These two stars know how to adapt to a different lineup. The player I am worried about is Derek Roy. This is now Roy's ninth season and he is going to play his first away from Buffalo. Depending on how Roy deals with new line mates Jagr and Loui Eriksson will determine how well the trade to Dallas will work. Jagr is a good guy to have on your side as Claude Giroux can account as he broke out last year with Jagr by his side. Roy and the Stars are hoping that they see some of the same out of their first line.
Analysis:
This is a team that is ready to compete. The fact that they signed two over forty forwards says a lot about what the team is looking to do. They want to win now. They have certain pieces that could make this team very interesting. They have been under the radar with the bigger moves in Minnesota and the fact that the reigning Cup champion is in their division. This team will do some damage if it is overlooked. If they can avoid any major injuries then the schedule may work in their favor. Even though they are old, Whitney and Jagr aren't known for ever getting hurt. They have a decent defense and goaltender, but they are going to need to play at their highest level to be top ten in the league. They don't have any names that will jump out at you, but they have players who are willing to outwork you on defense. This team may be in the wrong place at the wrong time once again. There is going to be a lot of trading of wins in this division and that may be what causes Dallas to be stuck out of that top eight they so desperately want to be in.
Los Angeles Kings: 40-27-15 3rd in the Pacific Division; Beat Devils in the Stanley Cup Finals
Biggest Acquisition:
RW Anthony Stewart
Biggest Loss:
RW Kevin Westgarth
Overview:
The Kings were the ultimate team of destiny in 2012. They may have barely made the playoffs, but then they showed that everyone who makes it has a chance. The team beat down on the Presidents Trophy winning Canucks to the point that now they are trying to trade their goalie. The swept the Blues and their best GAA in the NHL. Then they only took five games to dismiss their division rival Phoenix Coyotes. They went on to play the also surprised that you got here New Jersey Devils. It was the tale of two teams who defied the odds to get to the ultimate prize. The Kings went on to take a 3-0 series lead over the Devils before they made it interesting. The Devils showed fight and won the next two games before a Steve Bernier major in game six ruined any chance they had to take down the Kings. The Kings not only were the first team in history to beat the number 1, 2, and 3 seeds on their way to a Stanley Cup win, but they won the first Cup in the franchise's history.
The Kings are one of the favorites to win the Cup again this year. They lost nobody of importance this offseason. They bring back most of their team that lifted the Cup in front of the LA crowd. They used the offseason to resign key players like Jonathan Qwick, Dustin Penner and Jarret Stoll. The lockout is probably affect them more than any other team in the league. They could have had some hold over momentum had they started the season on time, but all the excitement for the championship was subdued by the work stoppage. If the Kings can find a way to get the fans back then they will have one of the better home arena advantages in the NHL. This team has the makings of something special. They are still young and could be doing this for a long time.
Biggest Question Going Into The Season: Are we going to see the regular season Kings or the postseason Kings in 2013?
They were really two different teams last year. They averaged 2.29 goals per game, good for second to last in the NHL. This team looked like it was Qwick and everyone else. They traded their future on defense in Jack Johnson to Columbus for Jeff Carter. It didn't seem to work out at first because he ended the season with only 34 points. If you take out that Flyers-Penguins series then the Kings would have had the highest goals per game average in the playoffs. They went from a team that only scored with their top line to having double digit points from everyone on their top two lines. They went an astounding 16-4 while winning the Stanley Cup. The Rangers needed the same amount of games to lose the conference finals in six games that the Kings needed to win it all. This may have been the one of the greatest postseason performances in NHL history. It is impossible for the Kings to live up to that over a 48 game span. They will, however, play better than their regular season. They will make the playoffs with much better than an eight seed and will be a favorite going in barring some sort of freak incident/injury. So to answer the question, the Kings will be somewhere in between the two.
Overview:
The Kings bring back their winning team. They now know what it is like to be a winner. A Cup changes a player. Knowing what it is like to be a champion makes you realize what you have been missing out on. Darryl Sutter comes into his first full season with the team (not that his half season last year went bad). Sutter showed his defensive focus with the Kings ending last year number two in goals against average. Expect more of the same in 2013. They still have the best goalie in the NHL. They have budding stars in Anze Kopitar and Justin Williams. They have good veterans (aka former Flyers) with Carter, Mike Richards and Simon Gagne. They are built to win, but I don't think they can find lightning in a bottle two years in a row. The West is too good for teams to win twice in a row. I wouldn't be surprised if they find a way to do it behind Qwick, but I certainly don't expect it.
Phoenix Coyotes: 42-27-13 1st in the Pacific Division; Lost to Kings in Conference Finals
Biggest Acquisition:
LW Steve Sullivan
Biggest Loss:
RW Ray Whitney
Overview:
The Coyotes came out of nowhere once again to make it all the way to Westen Conference Finals last season. They rode the great play of their goaltender Mike Smith to take them there. They were able to do all this while confusion over their ownership situation continued. Unfortunately it seemed to look like their offseason was severely affected by that. They ended up losing Whitney, Michal Rozsival, Adrian Aucoin, and Taylor Pratt. They replaced them with Sullivan, Matthew Lombardi and the wrong Michalek brother. They just did not get the quality of player to replace what had left in free agency. Their ownership situation was solved and the team is staying in Arizona for the next twenty years. This should help court better free agents in the future, but this year they are going to have to deal with the hand they got.
They were able to keep captain Shane Doan basically because he didn't really want to play anywhere else. He was very outspoken about how he was willing to wait out the ownership situation so he could sign a deal that would keep him in a Coyotes' uniform for the next four years. Keeping Doan was key to turning a bad situation of losing key free agents into one that wasn't a total disaster. By keeping Doan they don't have to go into rebuilding mode again. They don't want to waste a talent like Smith by having no good forwards during his prime. This team may not live up to what they were last year, but we never know with them.
Biggest Question Going Into The Season: Where is the offense coming from?
Ray Whitney took his seventy-seven points and brought them to division rival Dallas. How will Phoenix replace that? Former first round pick Mikkel Boedker has been propelled to the first line and will need to produce like he belongs there. Antoine Vermette needs to find the form he had in the 09-10 season in which he tallied 65 points. He would do wonders in replacing Whitney's offense if he could come back to that kind of production. This forward group in Phoenix will never be thought of as an offensive group, but they need to have some kind of production. Last time I checked you need to score goals to win games. The defensive first line of Keith Yandle and Oliver Ekman-Larsson can add to the offense like they did last year. If they can both combine for fifteen goals and thirty assists then it will help this team immensely. At this point, the Coyotes will take offense wherever they can get it.
Analysis:
It was a magical year for the Coyotes in 2012. They lost their starting goalie and ended up in a better position than they were in with Bryzgalov. They went to the Conference Finals for the first time in their franchise history. It will be near impossible to live up to that with all the losses they took. There are too many questions going into this season to see them take this division once again. The saving grace for this team is they still have their most vital cog in Smith. We have seen teams get carried by great goaltending to places they didn't deserve to be. The Coyotes need to hope and pray that they get the same Mike Smith as they did last year. If he was a one-hit wonder then the Coyotes will feel the same fate. This franchise needs a winner, and they need to hope that Smith is that guy to make them one. There is no more important guy in this franchise. He is their franchise this year. He needs to be the franchise guy they need.
San Jose Sharks: 43-29-10 2nd in the Pacific Division; Lost to Blues in First Round
Biggest Acquisition:
D Brad Stuart
Biggest Loss:
RW Torrey Mitchell
Overview:
To say the Sharks season in 2011-12 was a disappointment would be an understatement. San Jose expects to be at the top of the conference every year at this point. To have to win your playoff spot during the last day of the season does not bode well for how your fans react. This is a team known for let downs in the playoffs. After two trips to the Western Conference Finals, they were embarrassed in the first round by the Blues. Their penalty kill was harder to find than Gary Busey's sanity. Last year needed to raise concerns about changes that needed to be made to this team. It seems as if they were trying to sit on the same talent that was getting them just short every year. Stuart was brought in to bolster that penalty kill which ranked second to last in the entire league. When the only team you are better than in a category is Columbus, then there is a serious change that needs to be made.
The Sharks seem to rely on their first two lines. It is hard not to when those lines consist of guys like Joe Thornton, Patrick Marleau and Logan Couture. They have a top heavy offense which is something that has hurt them in the past. They are going to need help from the third and fourth line to progress further. Also they need to figure out what happened to Thornton. Since his 114 point season in 06-07 he has gone down in either goals or assists in every season since. He used to be a model of consistency. He needs to find that once again. He is the driving force of this team and if he can get it together they can propel themselves to the top once again.
Biggest Question Going Forward: What are you going to get from Antti Niemi?
Last year was nothing to brag about for Antti Niemi. The former Stanley Cup winning net minder ranked tied for 22nd in save percentage among qualifying goaltenders. The Sharks need someone in the top fifteen area to really compete in a conference that has Jonathan Qwick, Mike Smith and the duo of Jaroslav Halak and Brian Elliot manning nets for opposing teams. Don't get me wrong, the Sharks could have done worse than what they got from Niemi, but they need a lot more to have a bounce back year. They brought in Larry Robinson to help out their awful penalty killing, which showing that he just came from the Devils who had the best penalty kill of the modern era should help immensely. Niemi may have had some bad luck as the advanced statistics say, but a shot and a goal is a shot and a goal. As the goalie it is your job to stop the puck. YOU HAD ONE JOB! Anyway, besides Thornton Niemi is the key to the Sharks season. If he can play up to his potential then the Sharks will become a scary team on paper once again.
Analysis:
This isn't the Sharks team we are used to. They aren't guaranteed a high playoff seed, let alone even a playoff spot. The fact that Dallas got better and Anaheim is primed for a bounce back year is bad news for the Sharks. I predict that the bottom six forwards don't get better and that Niemi ends up being a bigger problem. The division has more losses in it for them than it did last year. The Kings are a year older and have the same skill. This may be the year the organization has to rethink their strategy. I see the Sharks missing the playoffs in this lockout shortened season. Too many holes and a sprint type schedule does this team in.