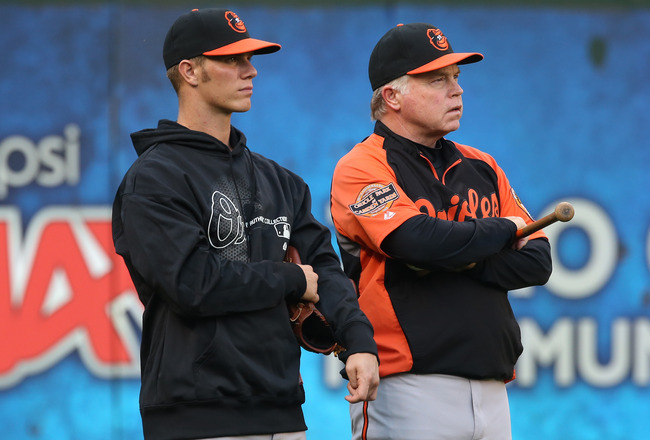 It is finally here! The time of year we all crave for as soon as the World Series ends. Major League Baseball will soon be upon us and boy was it a busy offseason. Superstar signings, big money trades and steroid scandals were all the rage this year. Will the season be as exciting as the offseason? One can only hope.
We get to the American League East. You have the juggernaut Yankees, the Cinderella story in the Orioles, the newly retooled Blue Jays, the always feisty Rays and the never say die Red Sox. It would not be out of reach to predict that any one of these five teams could win the division. It is quite possible that this division will claim the two Wild Card spots as well. The talent in this division from top to bottom is unmatchable. Baseball in the Northeast is going to be more competitive than it has ever been before.
Two of the biggest money trades of all time happened in the last calendar year with the mega trade of the Marlins sending the rest of their good players to the Blue Jays and the Red Sox making a huge salary dump on the Dodgers. The Red Sox dumped off 260 million dollars in salary while the Blue Jays took on 163 million dollars. Those two mega deals don't include the free agents that both teams have signed, the Yankees resigning their core while bringing on a former enemy, and the Rays deal to send off James Shields for one of the best prospects in the game. The East is where the big moves happen. Sure, people will talk about the Josh Hamilton and Zach Greinke deals out west, but these are the deals that will provide dividends. Now on to the preview of each team in the East:
Baltimore Orioles
2012 Record:
93-69
The Orioles caught lightning in a bottle last year when they saw a surge of young talent bring them to the post season for the first time in over a decade. They went down to the power house Yankees in one of the more brutal to watch AL Divisional Series in recent memory. With a restocked East, can the Orioles do the same thing they did last year? The Orioles may not have made many moves during the offseason, but they didn't lose much either. They took a flier that Jair Jurrgens still has something left in the tank and maybe Mark Hendrickson can make the team out of camp. Was last year a fluke or a sign of things to come in this division?
The Orioles ended the season with a plus seven runs differential, by far the worst of all the playoff teams. To put it into perspective, the Tampa Bay Rays finished behind them, but had a plus one hundred and twenty run differential. Their record in one run games was 29-11. Does that mean they are clutch or lucky? It has to be a little bit of both in MLB. What is even more astounding is their record in extra inning games. They won sixteen of their eighteen games that included free baseball. These kinds of records are near impossible to repeat.
Looking forward the outlook is pretty bleak. They lost a headache when Mark Reynolds signed with the Indians, but they also lost 23 home runs and a third baseman. They have plenty of talent between Adam Jones and Matt Wieters, but they may need to rely on them too much for a repeat magical run. Their pitching isn't anything to go home about and it just seems like the only place for them to go from here is down, unless Buck Showalter still has some magic up his sleeve.
Projected Finish: 5th Place
Reason For Projection:
Too many things went right for this team last year. The sad part is I believe that this last place finish will come with a .500 record. The team still has a great young core, but it is a core that has no idea how to handle expectations. The Os could come out and do last year again and it wouldn't surprise me, but I just don't have that much faith in these guys. I expect Jones to come back to Earth a little bit. I see the fact that the division has improved so much to also hurt them. They did not do anything in the offseason to make sure that this can be a Rays-like run in which it turns around the entire makeup of the franchise. 2013 will be a very familiar year down in Baltimore. Hey, at least you guys have the Super Bowl to fall back on.
Boston Red Sox
2012 Record:
69-93
Oh what an offseason it has been. The Red Sox got rid of their manager at the end of 2012 and did not take long to bring in a former part of Francona's regime in John Farrell. They think that he will be able to calm down this pitching staff and bring the Sox back to prosperity once again. It may take more than this year, but with all the young talent this team seems to have the future is bright. The Sox won't go down quietly in 2013. They are said to be a good clubhouse once again. They are looking forward to this season and to play it as a team, something they could not get a handle of under Bobby V. They have players returning from injury and big stars looking to regain their form (and in John Lackey's case, both).
They have a good mixture of budding stars, prime time players, and grizzled veterans. This roster has what it takes to win this division if it plays up to its talent. That is a big if, however. The Sox were expecting big things out of last years pitching staff and received literally the opposite. John Lackey missed the entire season with Tommy John surgery. Their ace, John Lester, had a terrible year you would expect out of your number five guy (or worse). He posted a 9-14 record while having a 4.82 ERA. He ranked 79th of all qualified pitchers, which is not something you expect from one of the better pitchers in the game. They also expected Clay Buchholz to break out in 2012, but he never seemed to find the right groove in the rotation. Both these players are no doubt going to have bounce back seasons, and with the signing of Ryan Dempster to solidify this rotation it will be exponentially better in 2013.
The lineup looks like it could be decent. You can lock in David Ortiz for his usual 20+ home runs in the middle of the lineup. (30+ if he can play a full season.) Former league MVP Dustin Pedroia is poised to get back to the stats he put up back in 2011. Pedroia seemed like he was playing hurt for most of last year so this year should do wonders for him if he can stay healthy. Jacoby Elsbury is in his contract year and will be playing out of his mind to try to make top dollar on the open market. They have under the radar signings in Mike Napoli, Shane Victorino and Stephen Drew to help make the lineup come together nicely. Then you have the next big thing for this Sox team in Will Middlebrooks. This guy looks poised to be a 30 HR 100 RBI average for his career. Expect this kid to middle a lineup that will be more potent than we are giving it credit for.
Projected Finish: 4th Place
Reason For Projection:
Same thing that is going on against the Orioles, this division is just too good. The Sox will still be competitive until the end, but the other three teams will have a little more talent and/or chemistry and they will outlast Boston. This team is one year away from being really good. 2014 could be their year once again, but that won't make this year any less fun to watch. As long as the pitching staff can get back on track then they will be able to salvage some of the dignity they lost in 2012. They have a legitimate ace if he can find his confidence and they once again have a potent lineup. The Red Sox are a scarier team than I expected them to be, but they won't do the damage they are hoping to, not right away at least.
New York Yankees
2012 Record:
95-67
Where do I start? Should I get into the fact that they are missing ARod for most, if not all, of the season? Do I get into how he was named in yet another PED scandal? Should we talk about the fact that our starting catcher is in the same scandal? How about the fact that we just completely forgot to sign a catcher in the offseason? Maybe we can talk about how the other teams in our division seemed to get better, but we seemed to stay the same. The Yankees made it to the top four in 2012, but that is not good enough for this franchise. At least, that used to be the case. It seems as if this new era of Yankees isn't your father's bunch. They aren't going to over pay for the Josh Hamiltons or Zach Greinkes of the world. (For the record, I am happy we didn't sign either. They don't fit well with New York.) We don't fix our problems with buying someone better.
There are arguments for both sides in regards to whether this is a good thing or a bad thing. On the one hand, we don't have to worry about getting stuck with atrocities of contracts that lose their value after the first year. On the other hand, it seems we are watching the rest of the league get better while you stay the same. It is a point that could be contested for days without a true answer being found. It isn't like the Yankees didn't spend money. They brought back Pettitte and Kiroda on twelve and fifteen million dollar deals respectively. They brought in former hated Red Sock Kevin Youklis for twelve million as well to replace Alex Rodriguez on the hot corner. The only difference is that the money the Yankees are spending is for one year deals so they can get under that dreaded 2014 luxury tax floor. This is still a money conscious Yankees team once this year is over and done with.
The Yankees are the best team ever with dealing with controversy. They have had steroid controversies, contract controversies, legal controversies, league controversies, player and coach fighting controversies, they have had every controversy short of fried chicken and beer yet they still make the playoffs on a yearly basis. Since 1995, they have missed the postseason once. Only one time! Those numbers are insane when you think about it. This team is still riddled with talent. They brought back Ichiro to add some average to the lineup. It isn't the power lineup we are used to, but I think they will still get their licks. Now it is more balanced with people like Ichiro and Jeter along with Mark Teixeira, Curtis Granderson and the newly signed Travis Hafner. Throw in a returning Brett Gardner and arguably the best second baseman in the game in Robbie Cano and you have one of the better lineups in baseball. Can they repeat what they have done for years and stay atop this division that seems to be getting better from top to bottom?
Projected Finish: 3rd Place
Reason For Projection:
It just seems like the Yankees have been winning on borrowed time. Can a rotation that consists of two old timers, a projected superstar who never panned out, a horse of an ace who looked like the innings were taking a toll on him last year, and "gulp" Ivan Nova or Michael Pineda take this team to the promise land? The pitching staffs are better on the top teams in this division and its going to bite this team in the butt by season's end. The offense will be good, but they seem destined for injury (they have Travis Hafner, he is guaranteed to miss at least half the season). They are too old and the time for overhaul comes right when that luxury tax is supposed to come into effect. Something will have to give here. Will it be the ownership or will it be the depth of this roster? This may be the end of the New York Yankees' monstrous
Tampa Bay Rays
2012 Record:
90-72
The Rays are by far the hardest team in the country to predict. When you think they were gonna break out with all their talent they faltered. When you thought they were a bargain basement product they went to the World Series. They make you question the very skill you have in terms of predicting. They made a big trade with the Royals that sent out ace 1B James Shields and brought back top prospect Wil Myers. Myers has had comparisons to Ryan Braun (well before the connection to PEDs Braun) which would make him a blue chip prospect beyond belief. If Myers can bring some kind of rookie sensation that was brought by players like Mike Trout, Bryce Harper and Yoenis Cespedes then the Rays are going to be the scariest team in the American League.
It looks like on paper they got worse with the losses of Shields and BJ Upton, but their pitching depth is off the charts. You know you won't get it easy when the number five pitcher on the team is Wade Davis. David Price is quickly becoming one of the best hurlers in the game. The Rays also have the deepest bullpen in the American League. In this post-steroid-era MLB, pitching is what is going to take you to the places you want. The Rays have the pitching everyone is looking for.
The offense is another story. James Loney has a shot to hit in the middle of the lineup, which isn't a good thing. They still have Ben Zobrist and of course Evan Longoria, but that may not be enough. The Rays need some of their young guys to produce right now. Nobody in their projected lineup hit better than .300 in 2012 (Evan Longoria is the best with .289). They will be one of the best defensive teams, but will that be enough in a division that is great top to bottom offensively?
Projected Finish: 1st Place
Reason For Projection:
What?? With so little offense how is this team going to sneak in and take the division from the big dogs of Major League Baseball? This is a new era of baseball. You don't win with offense anymore. Look at your 2012 World Series champions, they didn't have the best offense. Their pitching staff, however? One of the best. That is how I see the Rays winning all season. It won't be very exciting. It won't blow your mind. It may hurt attendance until Wil Myers is called up, but it will win games. The Rays are going to show why they were so easy to let go of James Shields. They had such a deep rotation that he was expendable. Like I said in the beginning, when things look at their worst is when Tampa is best.
Toronto Blue Jays
2012 Record:
73-89
Oh, what an offseason it was. The Blue Jays went out and got a whole lot of new pieces for new manager John Gibbons. Between the mega trade with the Marlins, the signing of the (would be if not for suspension) reigning NL batting champion and the reigning NL Cy Young award winner, the Blue Jays will be stacked from top to bottom. They got Jose Reyes to lead off a lineup that now finally has protection for Jose Bautista and Edwin Encarnacion. This lineup saw break outs from guys in house with Encarnacion and Colby Rasmus, but can they repeat those numbers? Can Melky Cabrera play the way he did without the help of HGH or whatever the hell he was using? The Jays are in clear win now mode as they cleared out their best prospects (and there were a lot of really good ones) to go after the Yankees and Rays for tops in the division. They did literally everything they could, but will it be enough in the end?
The Jays have so many unanswered questions in the rotation. Josh Johnson had a much better year than his statistics showed, having missed out on a win yet producing a quality start on fourteen occasions. The problem here is Johnson has had issues staying healthy. He escaped injury in 2012, but he lost out on potential Cy Young years in 2010 and 2011 because injuries cut his season short. Can Johnson still get his fastball up to where it was on a consistent basis? Then there is RA Dickey. He was the overnight sensation that went from unknown to best pitcher in the league in one year. Coming into last year the knuckleballer's career high in wins was eleven. He has seemed to get better every year with the Mets, but how could it be possible that a guy could have his best season at 37 when he never really had any to brag about? One of his only bad games last year was against the potent lineup of the Yankees, but one could argue that he threw shutouts against Baltimore and Tampa. Pitchers usually don't have better years when coming from the National League to the American League, especially to the East. Then there are the question marks in Brandon Morrow and Ricky Romero. Romero seemed destined for a breakout year, but it wasn't meant to be. He ended the season with a 5.77 ERA in 32 starts. That is after he managed to shave half a run off of his ERA every year since he was called up. Maybe the protection in the lineup will help him get back to form. Then there is Morrow and his injury bug. He was on his way to be part of the Cy Young discussion before an oblique injury derailed his season.
The fact that Mark Buehrle is the fifth starter is saying something for this team. The ownership is hell bent on bringing the World Series championship north of the border. They have a lineup that is equal parts average, speed and power. They do have some questions in the bullpen, but Casey Janssen was one of the best closers last year, even if the Jays didn't allow him to get saves. It is win or bust for this club and they are looking at uncharted territory this year.
Projected Finish: 2nd Place
Reason For Projection:
There is too much risk in this club. What will the new manager bring to the table? Can their top two hitters bounce back after bad experiences? Can their pitchers stay healthy since there is no backup plan? Can their hitters continue with the production now that all eyes are on Toronto? These are questions that are impossible to predict. The Jays will be good, and you can almost guarantee a playoff spot with this roster, but the division will go to the healthiest team throughout the season. Toronto will still be happy with what they see and they have this core intact for a good amount of time. Looks like the tide is starting the change in the AL East.