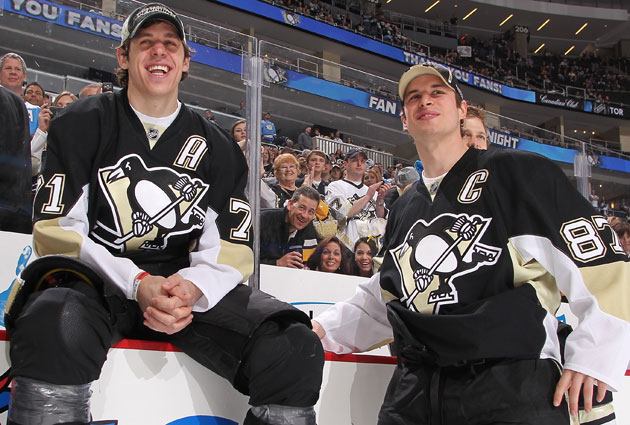 It is said by most people around the NHL that Sidney Crosby is the best player in the World. Crosby is undoubtedly one of the most skilled players in any sports. He has the ability to take over games and can score a hat trick with zero help. He is just plain great. Unfortunately, he missed a good part of a year with post concussion syndrome. He ended up missing 61 straight games before returning for a five game hello. He ended up missing another three months after that.
The big story line coming from this isn't that the NHL needs to focus on concussion research (although it is true), but we should figure out how a team loses its best player, the best player in the World, and doesn't miss a beat? Wouldn't a team be devastated if it lost the best player in the World? Not if you have arguably the second best player in the World. Evgeni Malkin was far and away the best player in the NHL last season. He won the Hart Trophy by a landslide and carried the Penguins in the absence of their captain.
Malkin led the league in points by thirteen. He ended up scoring fifty goals for a team that desperately needed a boost. He was top five in the league in more categories than one can count. He scored nine game winners, showing that he doesn't just pad stats but he can score when it matters, too. He plays with a certain confidence that you just aren't used to seeing in the NHL. He just knows when he is going to score. He is a player that when he holds the puck an entire arena can collectively hold their breathe. That is what makes someone great, when the opposing team wants nothing to do with him and the puck as a collective unit.
An argument can be made that the same feeling can be said about Crosby. Who makes me hold my breathe harder? Who makes us as opposing fans more nervous about watching? Is it really possible to have the two best players in the league playing for the same team? This just doesn't seem fair.
Moving on, let's look at the careers of the two superstars in question. Malkin and Crosby both have trophy cases that are already full. Malkin has won two Art Ross trophies while Crosby has brought one home himself. They are both Hart Memorial Trophy winners as the league MVP, with Malkin being the reigning champ himself. Crosby may not have the Rookie of the Year that Geno possesses, but he has a gold medal which Geno is missing. They have both been named team MVP for the Penguins on three separate occasions. In the trophy department they are pretty much the same.
Their stats aren't going to make one guy go ahead of the other so there needs to be some kind of intangible to make one player pull ahead. That one thing that no matter how many stats sheets you see it still cannot tell the whole story. We spoke earlier about how Geno's confidence is one of his biggest assets, but sometimes it can be a detriment. With only eleven games gone by Malkin already has eighteen penalty minutes (as opposed to Crosby's six). He seems to get the penalties at the worst possible time. For example, on Saturday against the Devils Malkin got two penalties in the third period that both times were scored on. Not only did he cause the man advantage, but caused the Penguins to be without one of their best penalty killers. Malkin's ego does sometimes get the best of him. Crosby seems to be better under pressure. Although Crosby is losing the battle for stats when it comes to game winning goals by a score of 35 to 28, it just seems that Crosby will perfectly shoot or set up winners when they are needed the most.
Although the question needs to be asked, Crosby is still the best player alive. Malkin will always play second fiddle until his ultimate departure from Pittsburgh. Sid the Kid is going to have that injury prone tag on him for a while, but I do think he has finally beat it. Without Ovechkin pushing him and without a real threat otherwise throughout the league, we are going to have to settle for this inter-squad matchup. The Kid against Geno will be debated until the end of their careers. As a fan of a division rival I am hoping one day we can have the argument while they play for other teams.