The six-time world champions, the current world champions, the team that has never won a championship and the team that seems like they will never smell a championship ever; this is what the AFC North consists of. It is always one of the best and most competitive divisions in the NFL. They are known for beating on each other (especially the Steelers and Ravens) and have great competition against the rest of the teams in the NFL. The Ravens won three playoff games against a team from every division (including the number one and number two seed) on their way to their second Super Bowl Championship.
The Steelers spent the offseason letting go of most of their well known players. The Ravens followed suit. The division has been in existence since 2002 and Pittsburgh and Baltimore have taken the division all but two times. This year seems like it is going to be three with all the losses on these two teams. Between the two, they lost Ray Lewis, Ed Reed, James Harrison, Mike Wallace, Danelle Elerbe, Paul Kruger, Bernard Pollard, Anquan Boldin, Cary Williams, Rashard Mendenhall, Keenan Lewis, Willie Colon, and Will Allen. That is some list of players that now play outside arguably the best rivalry in the NFL. Is this where the Bengals finally take a strangle-hold of a division they have been so close to taking the past two years? Will the Browns take a step forward under new management? We don't know what the future holds, but we do know with all the moving parts there is bound to be a ton of surprises in this division in 2013.
Baltimore Ravens - Bernard Pierce RB
I know what you're saying, there is no way that anyone will take over for Ray Rice, right? Now I am not sitting here saying that Pierce will take over for Rice next year, but I am saying that Pierce will become the most talked about back-up running back in the league. Think Ben Tate of the past two years, and that is what you should see from Pierce in 2013. He had a decent year on limited time in 2012 accumulating 532 yards on 4.9 ypc. This season the Ravens brass are said that they want to get Pierce more involved with their offense. The second year pro out of Temple has shown he has the ability to run in the NFL in his rookie year, now he just has to be consistent. The splits on carries in 2012 were about 75-25 for Rice and Pierce. Expect that to move more towards 60-40 now that they are a legitimate 1-2 punch. The headlines are paying attention to the Joe Flacco contract and the fact that they lost their number one receiver, but they are ignoring the fact that the Ravens may have the best backfield in football. Pierce is quickly looking like a third round steal and is under Baltimore control for the next three years at extremely reasonable numbers. If Pierce can work on his pass catching ability (something Rice excels at) then he would be a total package. The Ravens have a true thunder and lightning possibility here. If Rice ends up getting hurt, then Baltimore is in good hands with Bernard Pierce taking the load.
Cincinnati Bengals - Giovanni Bernard RB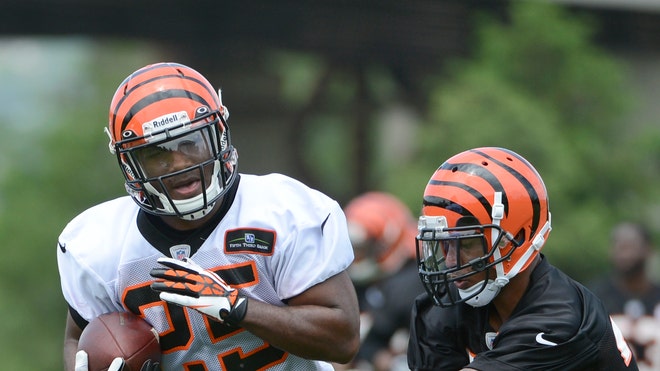 After a year away from the Patriots system, Ben-Jarvis Green-Ellis did nothing to impress anyone in his first role as the bread-winner running back of the Bengals. He had decent stats, but he started fumbling, which is something he literally never did in his four years prior to that. On a normal circumstances you wouldn't give up on a big signing in year two of a three year deal. This is where Bernard comes in. He was taken with the fifth pick of the second round of this year's draft and it showed that Cincinnati did not see the Law Firm as the main squeeze for years to come. The surprising part is after all this the North Carolina product may not be shining at his natural position of running back. The Bengals coaching staff loves the pass catching ability of Bernard so much that they are working on using the back out wide. He is at his best in open space and this could be the best way to get him the space he needs to excel. Running backs coach Hue Jackson thinks he could be even more than that. In his view he can carry the load for the Bengals, instead of being just a change of pace back behind Green-Ellis. Head coach Marvin Lewis sees Bernard as a back who could carry the ball 25 times, not just a home run threat. He thinks that he could be a control the pace of the game type of player. Every coach speaks highly of his skills and character and they show that he may be one of the most prominent parts of the Bengals offensive game. He averaged 6.7 ypc in his last year in college and hopes he can even come close to that in the NFL. According to Bengals brass, this guy is going to have a huge year, and I'm going to agree with them. Bengals fans will have something to look forward to with this guy.
Cleveland Browns - Brandon Weeden QB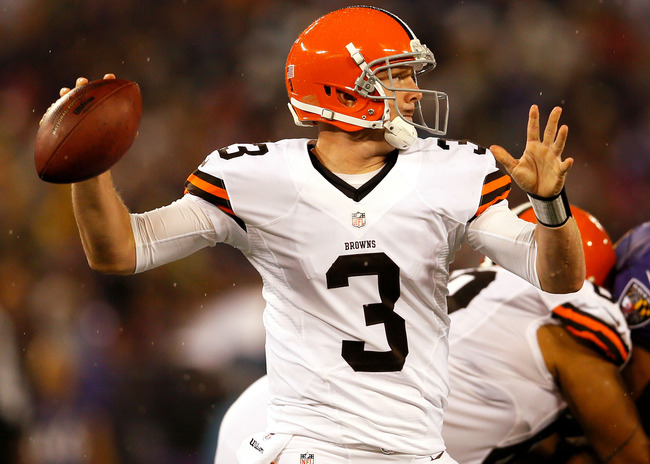 People are going to start thinking that I am crazy with my love for Weeden. He was a 28-year-old rookie. He plays for a team that isn't immensely talented. He had one game where he was REALLY bad, and that was his first NFL game. If you take that game out then his stats look a lot better (59.1% completion percentage, 14 TD/13INT, 217.8 ypg). They brought in Jason Campbell and Brian Hoyer, but I think that was just an extra push for the 29-year-old. He may have been older, but he still was a rookie. It is hard to say that with the Russell Wilsons, Andrew Lucks and RGIIIs taking their teams to the playoffs in their rookie years, but that isn't how it has been in previous years. He will shorten the gap between himself and the rest of his draft class. Trent Richardson is going to take on a more prominent role in this offense to take some of the pressure of his quarterback. They brought in a new head coach in Rob Chudzinski who will bring in a new system. It seemed Pat Shumar's system was not the very best for his skill set. He will improve on things that hurt him last year, like reading the speed of the NFL and getting passes batted down at the line of scrimmage. Weeden has the skills to be an elite QB in the NFL with a gunslinger arm and the ability to help his receiver make a play. The same guys who turned Derek Anderson into a Pro Bowl quarterback are now working with Weeden on his game. They brought in Davone Bess to have an extra deep threat along with his young receiving core being one season older. Norv Turner also came over from San Diego and is said to be an offensive genius. Between the bevy of new coaches and the fact that his weapons have survived those learning curves as well equal the kind of sophomore year that everyone can hope they have. With a weaker division and a 21st ranked strength of schedule (remember that is with a stronger Steelers and Ravens team from last season), don't be surprised if Cleveland fights for a playoff spot towards the end of the season. Also, don't be surprised if a big reason for that is the production of their QB.
Pittsburgh Steelers - Emmanuel Sanders WR
Mike Wallace was supposed to be the clear cut number one receiver on this team, but he was let go for nothing as he signed a new deal with the Miami Dolphins. The Steelers did not blink an eye to his departure. Sanders could also have left to New England as they sent in an offer sheet on him. Since he was a restricted free agent, tSteelers would have received a third round pick for the fourth year player. Ben Roethlisberger was not letting this happen. He went to Pittsburgh brass and said they could not let this guy go. I am trusting the quarterback here and believing that there is something special about this guy. He has shown flashes of playmaking ability last season. He is perfect for Todd Haley's dink and dunk offensive style. He has a healthy quarterback and an improved offensive line. He has his first shot to show that he was capable of being a starter this entire time, as he waited his turn since coming into the league. Thirty-one of his forty-four receptions went for first downs. He knows where he needs to get to in order to help this team. On top of this, Sanders only got a one year contract. He could be playing for a very big contract if he can produce up to the expectations the Steelers set for him. He could join Antonio Brown as teammates who hit 1,000 yards receiving. Sanders will take this season and make it his own. He is completely healthy for the first time in a long time (whether his injuries were real or fake, see his fine against the Bengals last season) and he is going to take the league by storm this season. Everyone in Pittsburgh knows this guy is going to go off, it is time for you guys to jump onto the bandwagon as well.
he