Peyton Manning came to Denver with a lot of questions surrounding his future in the NFL. He missed the entire 2011 season due to the four neck surgeries he needed. The thought of any athlete at any age to return to form after neck injury is preposterous, especially at the position in which you get blindsided at least twice a game. All Manning did was come in and go right back to being one of the best quarterbacks in the game. He threw for 4,659 yards (second most in his career), 37 touchdowns (second most in his career), and a 105.9 quarterback rating (second only to his record breaking 2004 season). This was unprecedented and unexpected. He took Denver to the number one seed after winning his last eleven games of the season. This was the kind of performances that are looked for in articles such as these. We want to find the players that nobody sees coming. Peyton Manning had a reputation of being one of the best quarterbacks of all time, so you definitely know his name, but the fact is it was surprising at least to see the masterpiece of a season that Peyton put together.
Peyton Manning wasn't the only one who had a season we did not expect. His receivers Demaryius Thomas and Eric Decker had star studded seasons thanks to their new quarterback. Carson Palmer and Brandon Myers became a connection people did not think would even happen, as Palmer looked pretty atrocious in 2011. Eric Weddle finally came out of the shadow of Ed Reed and Troy Polamalu to show he is one of the elite safeties in the NFL, while his teammate Danario Alexander made us forget that San Diego spent nearly 40 million dollars to bring in Eddie Royal and Robert Meachem. The AFC West clearly underperformed in 2012. If you take out the Broncos, this division finished the season with a record of 13-35. Three out of the four teams in the division have new head coaches in place. The new schemes make it near impossible to predict what is upcoming for the AFC West in 2013. Will Peyton be able to survive another season under center? Will Matt Flynn be able to finally lock down the Raiders quarterback position? What is the Chargers franchise going to look like in the first season beyond the AJ Smith/Norv Turner era? As always, the unknown players will have a large part in who ends up taking the division in 2013.
Denver Broncos - Wesley Woodyard LB
Von Miller is currently fighting tooth and nail to lift a four game suspension for violating the league's drug program. It was stated that he didn't necessarily fail a drug test, but the suspension is going through the appeals process as we speak. Wesley Woodyard is used to replacing Pro Bowl linebackers when he is needed. Last season, he came in for the oft injured DJ Williams after he was suspended for nine games. Woodyard is not going to replace the pass rushing abilities that Miller brought to the table, but he has been under the radar in terms of his ability in coverage. He snared three interceptions in 2012 and has sneaky speed. Woodyard spent three years excelling on the special teams units and even became the unit's captain. He has the abilities to be a great coverage linebacker. He needs work reading coverages, but he will be forced to do that if the suspension to Miller is upheld. People will see his skills as the microscope will be on the defense with the missing star. It is the only way to take your eyes off of the new Peyton Manning and Wes Welker connection. Expect Woodyard to take "the step" in his second season as full time starter. He will have an entire offseason to get prepared for the role, and he has the security of knowing what that role is coming into the season. Keep this guy on your radar when checking out that Denver defense.
als process as we speak. Wesley
Kansas City Chiefs - Donnie Avery WR
Donnie Avery was one of the most under the radar signings of the offseason. The Chiefs desperately needed a second option beside Dwayne Bowe, and they went out and got Avery. His numbers don't look like he is anything but the bust he seemed like since being taken 33rd overall by the Rams in 2008. In five years in the league (one in which he missed the entire season due to a knee injury), he has 2,089 yards and 12 touchdowns. Not the kind of numbers that scream "going to break out". He made strides last season in helping Andrew Luck have a record setting rookie season. He was an asset both on and off the field for the Colts. The Chiefs have been trying for years to try and find a liable number two receiver to get some of the double teams off of Bowe. Avery has the break away speed to at least warrant a look, but I think he will be much more than this. Andy Reid comes into his first season as head coach of a team that isn't the Eagles. His passing attack is his biggest asset. He is known to sometimes forget about the running game to try and win with his passing attack. With new quarterback Alex Smith brings a viable player to sit behind center. Expect a ton of production from Donnie Avery in this new offense. He may finally shake that draft bust status he has been carrying around since his break out rookie year.
Oakland Raiders - Latavius Murray RB
Currently slated as the third running back on a team that's best offensive player plays the same position. Why is he here? Well, Darren McFadden is that star offensive player, and he did not seem like the guy we were used to last season. He has yet to put together a year with a full sixteen games without an injury that took away some games. It seemed to finally catch up to him last seasons as his yards per carry dropped more than two yards from the year before. Rashad Jennings was brought in to be his backup, but when he got the chance to be "the man" in Jacksonville when Maurice Jones-Drew went down, he laid an egg. Just because there is a good chance he will play, why will Murray be any good? He played against inferior competition at Central Florida, which is something that needs to be considered, but he is built like a brick house and ran 4.38 40 at Central Florida pro day. He has break away speed with the strength to play in between the tackles. He may end up being this season's version of Alfred Morris. He was taken in the sixth round and could end up taking the Raiders running back job for himself. He has all the skills of McFadden (big guy, can run outside or inside just as efficient, can catch the ball) he just doesn't have the pedigree. He is getting raved by the coaching staff and he showed at CFU that he can score (34 touchdowns in three seasons). Expect him to beat out Jennings in camp, and then the countdown to McFadden's injury begins.
San Diego Chargers - Marcus Gilchrist S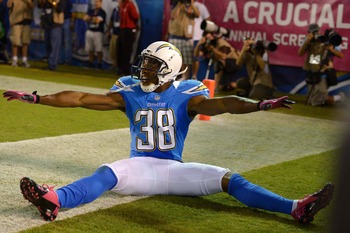 Gilchrist never seemed to get a real shot under Norv Turner. He was used as a backup corner when he had so much more talent than that. The new regime under Mike McCoy seems to want to see what this kid could do. They are trying him at both cornerback and safety to see where he best fits in the new system. As of right now, it seems that he will be lining up next to Eric Weddle. He could be the next Ryan Clark, causing a new debate as to who the best safety tandem in the league is. We may be getting ahead of ourselves with the predictions, but it just seems like Chargers fans have something to look forward to finally. Weddle will help with any hiccups Gilchrist might have in learning his new position. He will become dominant at the position by the eighth game of the season. Practicing against Antonio Gates will also help him when playing some of the best tight ends in the NFL. It may be a bumpy ride, but you will know who this man is by the end of the season.