For the second time in three years the Giants went into the playoffs as an underdog. They weren't supposed to beat the big spending Dodgers and the feisty Diamondbacks for the division. Of the forty-nine ESPN analysts who made picks for the World Series, exactly zero of them picked the Giants to win it all. They picked eight different teams, including four who didn't even make the playoffs, but failed to acknowledge the Giants. Will San Francisco ride into another title and become a bonafide dynasty, or will the big moves made within the division help one of these teams surpass them? Are the Giants able to beat the dreaded World Series hangover?
On paper, this division looks very top heavy. It looks like its the Dodgers, the Giants and then every one else. Don't get me wrong both those teams will be good, but don't discount the bottom three just yet. The Rockies have a lineup that many teams would salivate over. The Diamondbacks are very balanced and look to bounce back to the kind of year they had in 2011. The Padres have a lot of young talent that could come around and pull an Orioles type season to keep them competitive. This season is not over before it starts like so many are predicting. It will be a dog fight and the Giants are the ones with the bulls eye on their backs.
Arizona Diamondbacks
2012 Record: 81-81
The Diamondbacks went from surprise division winner in 2011 to disappointment in 2012. It had a lot to do with the fact that their pitching went from an asset to a detriment. Ian Kennedy went from a Cy Young favorite to a middle of the pack pitcher. It just didn't seem to click like it did the year before. They found a way to become top ten in offense in 2012, but will they be able to reach those heights with the loss of Justin Upton to the Braves? Although it is impossible to recover from the loss of a 25-year-old superstar, there are worse things to get back than Martin Prado. They have a manager in Kirk Gibson who seems to continue to get the most out of his players and will continue to do so.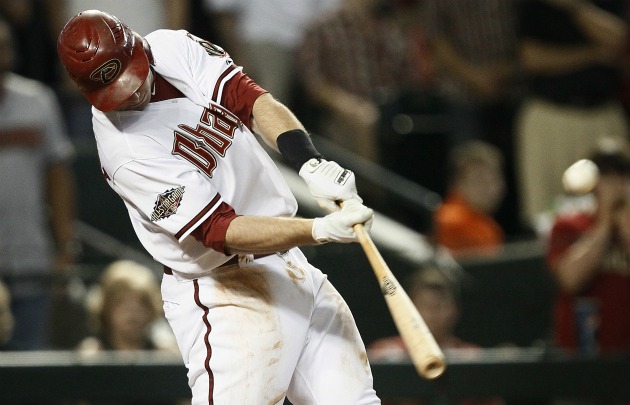 The lineup is sneaky good. Even though they lost Upton and Chris Young in the offseason they seemed to be able to move forward without skipping a beat. They got Cliff Pennington in the deal for Young and he could end up being much more than just being a stop gap for Didi Gregorius. Pennington has been working with the D-Backs hitting coach and he seems to be getting much better at the plate. The shorter swing has saw his spring average up to .389 (much higher than his 2012 season average of .215). The got Martin Prado from the Braves in the Upton trade and he can play all of the infield positions. He can give you a .300 average with great defense and clutch hitting. Jason Kubel will provide great power in his second year in Arizona. Aaron Hill and him will be looked upon to replace the RBIs lost by Upton. If this starting lineup hits as many home runs as they did last year, those eight players would have hit more home runs than five teams (and that is with rookie Adam Eaton's two home runs last year). Paul Goldschmidt may get overlooked by analysts because of the Albert Pujolses, Prince Fielders and Joey Vottos of the baseball world, but he is still one of the best first baseman in the game. We haven't even mentioned a bench that includes Eric Chavez, Eric Hinske and Willie Bloomquist. This lineup will be one of the most potent in the league.
The pitching is where the question marks arise. The people of Arizona are still waiting for the real Ian Kennedy to show up. We don't know if he is the guy who could have won a Cy Young, or the guy who couldn't get his ERA under four last year. Can he be a legitimate ace? Trevor Cahill's decent season shot him up from fourth to second in the rotation. If he can pitch all year like he pitched in September (2.69 ERA, 4-1 record) then he could even supplant Kennedy as the ace of this staff. Wade Miley is coming into his second full year and had a legit chance to overcome the odds to beat Bryce Harper as NL Rookie of the Year. He posted a sixteen win season on a team that really needed it. The problem with Miley is he has been dealing with dead arm issues. The grind of a major league season may hurt him with the dreaded sophomore slump. Brandon McCarthy seems to be improving on his progress that he made last year. If he can continue into this season then he could to see himself become a part of a really good rotation.
Projected Finish: 2nd Place
Reason For Projection: The Diamondbacks have an under values starting staff. The highest ERA of their top four guys last year was just a hair over four, and that was by their ace. This team is going to bounce back because even if their starters have a down game, they have the offense to out-hit you. They can beat you in an assortment of ways. They can hit for either power or average. They are clutch and their coach knows the game inside and out. The Diamondbacks are going to take over a spot that someone didn't expect them too. They are either going to knock out the defending champs or the highest spending team in the league. Or maybe both.
Colorado Rockies
2012 Record:
64-98
The biggest headline the Rockies made in 2012 involved a contract for the coach that happened before the season. Jim Tracy basically signed a contract to coach the Rockies for as long as he wanted to. He lasted one year. That was the kind of season it was for this team. Nothing that looked like it was bound to work actually worked and they seemed to just have the worst luck. It was the worst season in the history of the franchise based on winning percentage (they won less games in 1994, but that was due to the strike shortening the season). It was embarrassing to tell you the truth. They had the worst team ERA in the league. They were so desperate that they gave a pitcher who was going to turn fifty that year a chance to pay in the majors. They ranked sixth in the league in runs scored yet they couldn't get a win. The Rockies were the reason why teams build their entire team around pitching. If you don't have it then it doesn't matter how many runs you score, they will score more on most occasions.
The Rockies have some of the best talent in the majors offensively. Troy Tulowitzki is the best offensive shortstop when he is healthy (which is a hard thing to predict). He is a superstar and can carry this entire lineup when he is in there. The problem is he is recovering from a torn groin that he hurt last season and there is no telling how well he is going to play when he comes back. Carlos Gonzalez is currently hitting h
is prime and is about to become the next superstar to hit in Coors Field. Between the two of them you can put scrubs in and it would still be a good lineup. Fortunately there are still other good players in the field. Michael Cuddyer was getting used to playing for a new team and it seemed to affect him more than he thought it would. Expect to see the twenty-four points he lost on his batting average to get back on in 2013. Dexter Fowler is equal parts decent power and decent speed. He is a good cog to have towards the top of your lineup. He gets on base for the big hitters in the lineup. Todd Helton is still productive even though he had his worst season in his illustrious sixteen year career. Expect a bounce back of epic proportions. He doesn't want it to end like it did last year.
is prime and is about to become the next superstar to hit in Coors Field. Between the two of them you can put scrubs in and it would still be a good lineup. Fortunately there are still other good players in the field. Michael
The rotation is a completely different story. The Opening Day's starter won a total of three games last year. Jhoulys Chacin is coming off a season in which he recorded three wins in the twelve starts during the year. Their number two is Jorge De La Rosa. He posted an ERA over nine after coming back from Tommy John surgery. His velocity is down and he doesn't look to be bouncing back any time soon. Jeff Francis is starting the home opener and he never had an ERA under four (5.58 last year) and he is now thirty-two years old. You can't teach old dogs new tricks, especially at Coors Field. Drew Pomeranz locked down the number five spot. His spring ERA is 5.50. He was said that he locked it down because he can find the strike zone. Isn't that his job as a pitcher? You mean a pitcher can make the majors when they can't find the quintessential part of their job? Imagine a doctor who was having trouble finding your heart. That is the Colorado Rockies pitching staff.
Projected Finish:
5th Place
Reason for Projection:
The pitching is awful. It is terrible, in fact. Expect the offense to be torn apart. The only thing stopping a complete fire sale of this team is the fact that most of their stars are signed are for multiple more years. The one big name you may see go is Todd Helton. He has been with the Colorado franchise for his entire career and he has been through the ups and downs. He may get them some value on name alone and besides last year he was still a valuable commodity. Either way, unless some kind of miracle happens expect the Rockies to be in the basement of the division once again.
Los Angeles Dodgers
2012 Record:
86-76
The Dodgers are quickly becoming known as the big spenders on the block. When every team in the game, including the Yankees, are trying to save money and cut costs, the Dodgers are just outspending everyone for who they want. They took on most of the bad contracts that Boston gave the last couple years just to get Adrian Gonzalez. They traded for Hanley Ramirez in the middle of last season. They spent over sixty million dollars to bring Hyun-Jin Ryu over from Japan. Then they shelled out a whopping 147 million dollars to bring Greinke in to wear the Dodger blue. They will have a $233 million dollar payroll (if you include the 22 million dollar luxury tax). They spend more because of the astronomical amount they made of their TV deal. When you bring in 240 million dollars per year on a locked in twenty-five year deal you can spend a little more frivolously.
With the amount of money that they spent, you would expect them to have the best lineup in the game. Unfortunately it seems most of that money seems to be going into the log jam that is the rotation. When you're paying your number eight guy on the depth chart nearly twelve million dollars a year then you know where your money must be locked into. That does not mean that the Dodgers have a bad lineup. That isn't the case at all. Let's start with the ones we know will give you a good season. Adrian Gonzalez is good for a .300 average 20-30 home runs and over 100 RBI's every year. He had a down year in 2012, but every Red Sox player did. His 2011 was the stuff of magic as he was right there in the MVP race. Expect him to once again carry a lineup full of high profile guys. Matt Kemp missed over fifty games last year yet he still hit 23 home runs and had 69 RBI's. What that amounts to over a 162 game season is 35 home runs and 105 RBI's. If Kemp stays healthy then he is a perenial MVP candidate. Andre Ethier is a middle of the lineup guy who is on the cusp of one of the really good players in baseball. He did have a stinker of a season in 2011, but he bounced back in a big way in 2012. Expect him to have another great season in 2013 with so much protection in the lineup. Now on to the players who aren't going to be a lock. Hanley Ramirez used to be a player who would scare the hell out of you when he was coming up. He still has that kind of potential, but he needs to figure out what happened to his average the past two years. Maybe it had to do with being a part of a Marlins lineup that had him being pitched around. Carl Crawford needed to get away from Boston. It just seemed like he never wanted to go there in the first place. He is in a better place and is not going to be the guy with the big contract anymore. Expect to see a better Crawford in 2013. AJ Ellis was a nice surprise at catcher for them last year. He had a blazing fast start, but eventually came back to Earth. It seems that he is on pace for the same as he has been raking it in spring training and looks to be on the verge of having another hot start. Like I said to start, there are some questions going into the season with this lineup. They aren't the best, but they are pretty darn good.
The rotation is where they are going to excel. Clayton Kershaw is a no doubt ace for this staff. He is widely considered one of the best in the game and he comes into the season with a chip on his shoulder as everyone is talking about offseason acquisition Zach Greinke. The massive contract hopefully doesn't hurt Greinke, who has a history of dealing with stress badly. Since he went back to being a starter in 2007 he has been mostly stellar. Hopefully this contract won't be the death of him. Behind the two aceBillingsley, Aaron Harang, Ted Lilly and Chris Capuano. Anyone of those would be a great fifth starter and the other three would make great trade bait.
s you have a former ace in Josh Beckett. He has had a few bad seasons, but expect him to bounce back. He is only 32-years-old. It was uplifting to see his ERA drop over two runs since his trade to the Dodgers. In four of his last six starts he only allowed one run. If Beckett can go back to his World Series winning days then this team can be unstoppable. They have a choice for the fifth spot with Chad
Projected Finish:
1st Place
Reason for Projection:
This team has eight quality starting pitchers. When your fifth starter battle is between pitchers who have been first and second starters then you are in pretty good shape. Their offense can be very good if everything works out. The biggest concern is the health of Matt Kemp. There is no doubt that a healthy Kemp could have led to a much better season. Seeing that this team was only two games out of a playoff spot and that his WAR was 7.8 in 2011 and 2.3 in 2012 one could argue that he was the main reason they missed out. LA is looking to have their own cross town World Series. That is the expectation here. The division should just be a stepping stone.
San Diego Padres
2012 Record:
76-86
The overall look of the Padres 2012 season may look like a total disappointment, but it wasn't. It may have started off as bad as it could, they started the season 34-53, but after the All Star break they won nine more games than they lost. It is progress, and that is all you can ask for with this team. The end of 2012 will make fans in San Diego more excited for 2013. They have a player for every role. It sounds mundane, but it is something you don't see on every team. They have a few power hitters, some that hit for average and some that have the speed. When looking at their roster there aren't many players that stand out, but they can be better than people give them credit for. Don't expect anything crazy, but this team will be better than expected.
They have an interesting lineup projected to start the season. They have a bunch of guys who bring a lot of energy to this team that can help will them to wins. They have power limited to a few players, but those guys can really bash the ball. Chase Headley has by far the best season of his career. Surprisingly, amid so much trade speculation the Padres signed Headley to a one year extension. Unfortunately, it may be the writing on the wall saying he will probably wear a different uniform this season. Carlos Quentin can be a great commodity. His first season in San Diego was riddled with injuries. Even though he missed about half the season he still hit sixteen home runs. If he can stay healthy he can bring power to a lineup that can use it as it was 27th in home runs in 2012. Cameron Maybin has the speed to leg out balls, but he is clearly being held back by Petco Park. Either way, no matter what happens the unfortunate truth is San Diego is a cold hearted place to play. If you play well they try to get the highest value for you. So if your rooting for a guy to play in San Diego for a long time, hope he sucks for a couple years to start.
The fences have been brought in at Petco Park. That is terrible news for the home pitchers. Edison Volquez came over from the Reds and took over a run and a half off his ERA. He has had trouble finding the success he had when he first went to Cincinnati. Hopefully the new dimensions in the park don't hurt Volquez too much. Clayton Richard is slated to be the number two and he is the typical home loving pitcher. He has a 3.02 ERA in Petco, but had a 4.74 ERA away from his home park. Jason Marquis is a pitcher who could never be consistent. He will have a 3.50 ERA one year and then 6.00 the next year. This year he is developing a changeup and the results are great. He is blowing through spring training and is looking to rebound once again. The point of it all is pitching doesn't seem to be a huge priority to this team. Hopefully the new ballpark doesn't end up killing them.
Projected Finish: 4th Place
Reason for Projection: They would be in last, but the Rockies pitching is so bad it saves them. The problem with the Padres is when they play at home, the other team gets to pitch there too. The gameaverage guy on the mound in a pitchers park, the other team will have the same or better. It is unfortunate that they have no interest in keeping their good players. If they could keep a nice young core then this would eventually be a good team. That isn't happening any time soon so get used to a rotten team. Sorry San Diego, but your team is anything but classy.
s aren't going to be high scoring so even if they have an
San Francisco Giants
2012 Record: 94-68
Once again, we saved the champs for last. The Giants went on a miraculous run towards the end of the season to take the West from the big spending Dodgers. The last thirty games of the season they went 20-10, while the Dodgers went 16-14 in the same time. It doesn't sound like a lot, but if the switched records then they would have been tied for the West lead. They dealt with controversy when the reigning All Star MVP Melky Cabrera was busted for using performance enhancing drugs. They were thought to be out of it when one of their only decent offensive weapons would be gone for fifty games (almost the rest of the season at this point). Their premier pitcher, Tim Lincecum, forgot how to pitch and went from ace to bullpen by the time the postseason started. The team lent on its incredible depth in their pitching staff and their incredible 25-year-old catcher who came back from a major injury to win the MVP. They got major contributions from everyone on their way to winning it all. They won six elimination games in the playoffs to keep everyone on their toes throughout. They decided to give everyone a break by sweeping the favored Tigers in the World Series.
Unfortunately for the Giants, the make shift offense is once again returning. It is very top heavy with Pablo Sandoval, Hunter Pence and Buster Posey. Their lead off hitter was ranked 66th in the majors in OBP. Brandon Crawford is strictly defensive short stop and won't provide much in terms of hitting. Brandon Belt may have the least amount of power out of all the first basemen in the league (besides the carousel of hitters the Yankees keep trying to sign). Marco Scuturo was set on fire after he was traded to San Fran from Colorado and hit .362 for the Giants. Seeing that he has never hit over .300 in a season don't expect those same numbers in 2013. Gregor Blanco and Andres Torres is no platoon that will blow you away. It is going to be the middle three of the lineup, then everyone else this year.
What the Giants lack in offense, they make up for with great pitching. Anytime there is a conversation over who has the best pitching staff in the league, the Giants get brought up. Even Barry Zito saw a resurgence last year. When someone who was considered the biggest contract bust in history can provide you with fifteen wins in the season you know things seem to be going right. Matt Cain became the ace of this staff when Lincecum was having his issues. Cain is one of the best pitchers in the majors and can throw a no-hitter every single outing it seems. Madison Bumgarner has been outstanding since being called up to the big leagues. He has never had an ERA under 3.37. The only bad sign is that his ERA has risen up every year for his first four years in the majors. The good news is even with that he still ended up in the top twenty for pitchers in all of baseball. Thankfully for the Giants he bounced back after some horrendous starts in the playoffs to post a shutout in game two of the World Series. With all the talent in the rotation, the one nobody talks about maybe the best. Ryan Vogelsong has found his niche after struggling for most of his career. He had a great season in 2011 and an even better one in 2012. You don't hear very often of pitchers finally figuring it out at 34, but Vogelsong is the exception to the rule. He was the only Giants pitcher to go undefeated in the postseason and got them out of jams on three different occasions. It could be argued that he was the reason they won it in the first place. If this team gets the Lincecum of old then this rotation may not need the team to score.
Predicted Finish: 3rd Place
Reason for Prediction: I know, it doesn't make sense. How could I say how good their pitching is, preach that pitching is so important, then put the team with arguable the best in the majors at the bottom? There are a few reasons. For one, I know Sergio Romo had a masterful postseason and was phenominal in replacing the injured Brain Wilson, but I just think that there will be some fall off there in 2013. The offense is abysmal outside the middle of the order. It just seems like they do expect the rotation to do it all. What if Lincecum never finds the magic that made him one of the most dominant in the league? What if Zito's 2012 was a fluke, like his walk to strikeout ratios say it is? What if Vogelsong finds his 2006 form instead of his 2012 form? What if Cain or Bumgarner get hurt? There is too much riding on one facet of the game. The risk will hurt them in the long run.