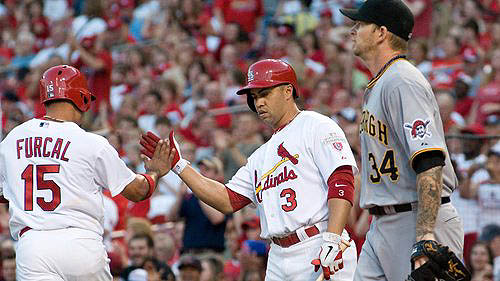 The NL Central is down one team, and about fifty easy wins, this year. The Houston Astros were sent to the American League and now teams like Chicago can take their rightful place in the basement. Cincinnati finally showed the potential we knew that had with a breakout 97 win season. The Pirates teased us once again into thinking their run could sustain throughout the season. It didn't. The Brewers clearly felt the void that was left when Price Fielder signed with the Tigers. St Louis lost arguably the best player of the past decade and one of the greatest managers of all time, yet they didn't seem to miss a beat. The division doesn't seem like it will be dominated by anyone. This one could be up for grabs in 2013.
The Central was very quiet in regards to free agency. It seems the biggest moves were Edwin Jackson to the Cubs and Russel Martin to the Pirates. Neither move makes you fall out of your seat. It makes you wonder why the offseason was so quiet when it seems that any one of these teams could have made a splash that could propel them to tops in the division. Do these teams feel they have prospects ready for a great season? Are there any trades in the works? The division is controlled by each team's star player. It is Braun for the Brewers, Votto for the Reds, Beltran for the Cards, McCutchen on the Pirates, and Theo Epstein on the Cubs (he is the most talented in his position on the entire team). If one of these teams can bring in another superstar then it could push them over the top. It just seems like the division as a whole is missing out on pitching depth. I guess nobody told them the steroid era ended.
Chicago Cubs
2012 Record:
61-101
Another one hundred loss season in Chicago. It wasn't pretty, that's for sure. The Cubs are making all the wrong moves for the past decade. They ruined what could have become the greatest pitching duo ever in Mark Prior and Kerry Wood. They signed Alfonso Soriano to over 100 million dollars and he never seemed to fit. Now they are starting over. They have a relatively young team. They have prospects Anthony Rizzo and Wellington Castillo who will now become a part of their everyday lineup. Rizzo is the one with the real potential. After San Diego gave up on him prematurely, the Cubs gave him another shot to really develop. After spending half the year in triple-A, he came up to the bigs and hit like he's been here before. By the end of July he was hitting .321 with eight home runs in a little over a month's time. He came a little back to Earth, but he showed that he has the potential to be a real good power hitter.
The Cubs offense can be explained as mediocre at best. They have some decent players in Soriano and Starlin Castro, but the rest of the offense would be backups on most other teams. They have a failed prospect in Ian Stewart playing third base. He had a good season in 2009, but mechanics and injuries have cause his numbers to drop significantly every year since. He barely hit over .200 in 2012 with only five home runs. Their center fielder and leadoff hitting can still get on base, but David DeJesus can not hit for power or steal bases anymore. It is obvious that second baseman Darwin Barney is in there for defense. Nate Schierholtz has 123 RBI's....in his six year career and he is a starting corner infield. For the Cubs to have even a respectable offensive production (hard to imagine since they ranked 28th last year) they are going to need a duplicate year from Soriano (not likely especially since there is talk of him being traded), they are going to need their prospects to flourish (hard to predict) and they are going to need Castro to field his potential immediately (actually likely this season).
The pitching is a cause for concern as well. Jeff Samardzija is slotted to be their ace after having an up and down career so far. He could never find his groove in being a relief pitcher so they tried him out as a starter and the transition seems to be working. They signed Edwin Jackson to give some depth to the rotation, but he has always been a good one day bad the next kind of pitcher. The next three pitchers are Travis Wood, Scott Feldman and possibly Carlos Villanueva. None of them are ever going to be something you can count on and are at best spot starters on most teams in the league. Matt Garza was as good as gone from the organization until he got hurt. He is predicted to miss most of April, but look for him to see himself in another uniform before the season is done.
Projected Finish:
5th Place
Reason for Projection:
This was a team that was just poorly constructed. They have no real strengths and glaring weaknesses. Their starting pitching is bad, and when they do get a quality start it is likely that their bullpen will blow it. They tried to dump Carlos Marmal, but he couldn't pass his physical so he was sent back. This team is behind the rest of the division on most accounts and it seems like it will be unless they do some kind of franchise overhaul. There is a lot of work to be done here and it surely isn't getting done in 2013.
Cincinnati Reds
2012 Record:
97-65
Last year was a great year for the Reds. They posted the best season they have seen in Cincinnati since the days of Joe Morgan and Johnny Bench. Everything seemed to work out for this team throughout the regular season. The only black eye on the season is that Joey Votto missed over fifty games. When he was playing he seemed to lack some power (although his average was much higher than his career average). Hopefully this will just be a blip on the radar for a potential superstar that this team hopes they can build off of. Besides that they saw big contributions from nearly every position on the baseball field. Their pitching was who stepped up the most. The Reds ranked fourth in overall team ERA in the majors. The bullpen was statistically the best in baseball with fifty-six saves over the season.
This year is looking like they may have one of the better offenses in the National League. With the addition of Choo from the Indians, they could be as good as their pitching was last year. They may have lost Drew Stubbs in the deal, but it is definitely an upgrade in center field. Scott Rolen has moved on, but Todd Frazier showed last year that he is finally ready to be an every day player with his nineteen home runs in 128 games. Zack Cosart came onto the scene really well, but faded down the stretch. According to his line drive rate we should expect his batting average to make a significant jump in the year 2013. With Choo's being an on-base machine, we should expect Brandon Phillps' already stellar numbers to rise even more. He is one of the more underrated players in the game today. They brought back Ryan Ludwick to provide more power on the corner outfield spot along with Jay Bruce. The Reds should jump into the top tens in runs for the season barring any serious injury.
This is where the Reds win most of their games, their pitching staff. The biggest question going into the season is whether they keep stud closer Aroldis Chapman in that role or if they put him into the starting rotation. In spring training they are using him at the beginning of games so that could tell part of the story. As we have seen on numerous occasions (see Joba rules for an example) the transition from bullpen phenom to starter is not always a smooth one. If Chapman can give them 10-13 wins this year they should count it as a win. He will have more than enough support. Johnny Cueto was in the tops of the Cy Young voting for the entire year. Mat Latos survived a bumpy start to become a solid number two and will look to become one of the premier pitchers in the division this year. Bronson Aroyo had one of the best seasons he has posted in years. Bailey could be an All-Star if his home numbers looked like his away numbers. Once Bailey learns how to pitch in a hitter friendly park then look for this rotation to get REALLY scary.
Projected Finish:
1st Place
Reason for Projection:
The Reds are very good. They may be even better than last year. They upgraded their offense while most of their pitching stays the same. The Chapman debate may have ended as he has said he would like to be the closer. This will probably propel the Reds even higher as they will have one of the best bullpens with Broxton and Chapman. Basically, the team is stacked. They have all the tools that could push them all the way to a title. They felt what it was like to lose a big series in 2012, and they definitely learned from the experience. Expect this team to make "the jump" in 2013.
Milwaukee Brewers
2012 Record:
83-79
File last year's offseason as the worst case scenario for the Brewers. It all started with their star player, Ryan Braun, was suspended for fifty games for violating baseball's substance abuse policy. It took a lengthy fight, but he eventually the suspension was lifter. People are still questioning whether or not he was innocent or just found a flaw in the system, but either way the Brewers get to keep their star. Speaking of stars, their power hitting first baseman Prince Fielder bolted to Detroit to play for the Tigers. The entire season would be filled with questions of whether Braun was thinking about the negative test and how were they going to recover from the loss of Fielder. That all seemed to wear on them as they never seemed like they were ever in the playoff race.
The Brewers are going to have to deal with some of the same in 2013 because when names started to leak about the outed Miami supplement company, Braun's name was on the list. They need to make sure that this guy is innocent or they won't be able to survive. This team doesn't have the offensive firepower to overcome such a loss. There are many what ifs in regards to the lineup and too many could go either way. Carlos Gomez finally showed some power, but that could be a one year wonder as he never did in his previous six seasons. There are high expectations after a hot spring from Jean Segura, but at the end of the day he is a 22-year-old with forty-five career games. Rickie Weeks is the kind of player that can always hit home runs, which is great coming from your second baseman. Unfortunately, it also comes with a low average and high strikeout rate. Norichika Aoki had a great season after Corey Hart was needed at first base, but he is having a terrible spring and could show to be a one year wonder. Speaking of Hart, the first baseman is going to miss the first few weeks of the season with a knee injury. Hopefully he can fully recover or you won't know what you can get from the 30-year-old. Basically the entire line up is just one big question mark.
The pitching staff isn't much better. Yovani Gallardo is a true ace and one of the more underrated players in the game, but his supporting class isn't anything to brag about. Matt Fiers was absolutely awful coming down the stretch and his stuff isn't very good so there is no info saying that will change. Marco Estrada has a high ceiling, but what got him by last year is what has hurt him throughout his career. His control was top notch in 2012 after being known as a pitcher who couldn't keep it in the strike zone. Did he just figure it out finally or is this something he did with smoke and mirrors? Going from over six walks per nine in triple A to less than two in the majors paints an interesting picture. Chris Narveson is coming back from a torn labrum, and we all know what a pitcher can look like coming off a shoulder issue. This rotation doesn't look like it can attain for the Brewers lack of offense.
Projected Finish:
4th Place
Reason for Projection:
The Brewers are set at the closer role with John Axford. That appears to be the only question that Milwaukee answered while building this team. The Braun situation isn't going to go away and he may be lost for a good portion of the season if he is found guilty. The offense just isn't explosive enough. They have Aramis Ramirez for another year so he can provide some rejuvenated pop in Miller Park. He is going to have to as the rest of the lineup is looking to be quite depressing. The Brew Crew needs some luck and a few break outs to compete this year, but I fully expect them to be closer to the bottom than the top.
Pittsburgh Pirates
2012 Record:
79-83
The Pirates teased us all once again last year. They went into the All Star Break with a record of 48-37 and fully entrenched in the playoff race. They went into the break with a lead in the division. For the second year in a row they fell off the wagon and finished under .500 for the twentieth season. This was not a happy Platinum Anniversary for the team that everyone can't help but root for. We see their star player who can't help but keep a smile on his face. The guy took an extremely low amount to stay with the team and city he obviously loves. Getting one of the best players in the game for under ten million a year in baseball is near highway robbery. They continue to be in the bottom five in salary, but tend to compete with the big spenders. Their two highest paid players are being paid by other teams. They have a great manager in Clint Hurdle who seems to get the very best out of every player they acquire. Expect something out of this team as I think they are sick of losing. This may be the end of futility for a team that's felt so much of it.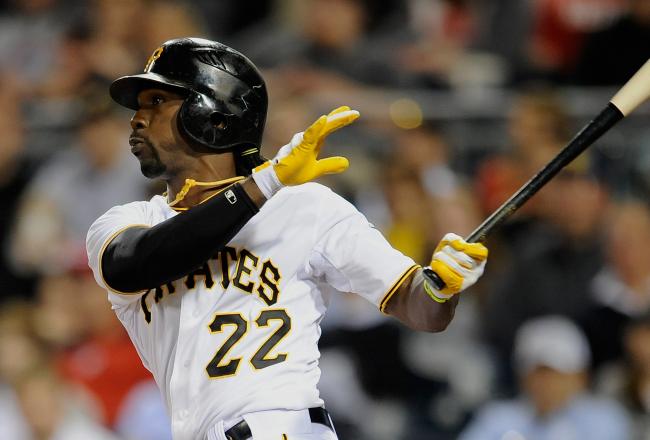 When you get past McCutchen there aren't many names you will recognize on this team. That doesn't mean they aren't good, however. Neil Walker is a very good second baseman who saw the end of his year in 2012 due to back issues. Many people think the start of Pittsburgh's downfall happened when Walker went down. He is back and healthy so that should help this team get better. Clint Barmes is holding the spot at second warm until Alen Hanson is ready to go. Barmes is still a good hitter against lefties so he has value there. New Acquisition Russell Martin won't dazzle you at the plate, but he hits for power and is quite clutch. His defense is really what you brought him here for. Garrett Jones had one of his best seasons and looks to become one of the premier hitting first basemen in the league. He could provide protection for McCutchen so neither of them will have to worry about being pitched around. The offense may lack a little outside of them, but they seem to get the big hit just when they need it.
The pitching is going to be an area to look out for. AJ Burnett has well documented struggles before being traded to Pittsburgh. He is slated to be their ace in 2013. After two straight years with an ERA over five, Burnett came back to the National League and found his groove again. He posted a 3.51 ERA with a sixteen win season. He is followed by Wandy Rodriguez who was brought in mid-season last year. After a rough start with the team Rodriguez finally settled down and won his last four decisions of the season. James McDonald is slated to be the number three starter after a season that can only be described as inconsistently consistent. Basically, McDonald was great in the first half, ending it with twelve quality starts. The second half saw him have a quality start in only half, and the ones he didn't he was rocked. They are looking to see the first half version of McDonald rather than the one we saw after the All Star Break. Jeff Karstens and Jeff Locke (if he wins the job) are decent choices for the bottom two spots in the rotation.
Projected Finish:
2nd Place
Reason for Projection:
It ends this year. The Pirates will end the streak of twenty years of futility and will finish over five hundred. The area of most concern is the bullpen because you have a 36-year-old first time closer and a set up man that was part of the absolute collapse in Boston. The fact is that this team has something that no amount of advanced stats can measure, this team is hungry. They want to win for their manager. They want to win for their city. They want to win for themselves. This group looks ready to show they aren't going away. The Central isn't a complete lock for the next decade like other divisions could look. If Pitt gets lucky with some prospects and gets some good veteran stars then this could be a team to watch in the future.
St Louis Cardinals
2012 Record:
88-74
The Cards were a team nobody expected much out of last year. The defending World Series champions just seemed to try and turn too much over. Their manager Tony La Russa retired after the big win. Albert Pujols took his big payday (and an overall bizarre contract) over to Los Angeles. Chris Carpenter was going to miss most of the year after being a true ace the year before. Mike Matheny was coming in to a team that most didn't expect to contend. Well they did, and they went all the way to the National League Championship Series. They took the eventual World Series Champs to seven games. They were one good Carpenter start away from going to the Series again. Can they repeat that kind of success?
The Cards are bringing a good amount of last year's team back. Unfortunately, Rafael Furcal was knocked out for the season with Tommy John surgery. Pete Kozma has the inside track to be his replacement, but there are a multitude of options they can turn to. Matt Holliday is quietly pounding out 100 RBI seasons every year and Carlos Beltran was an MVP candidate for most of the year for the Cards. They overall effort of this team is astounding. They had four offensive players get MVP votes, with Yadier Molina getting two first place votes and finishing fourth in the voting. They have Allan Craig who could put up monster numbers if he played every day. His projected numbers if he played 162 games are: .307 AVG 30 HR 125 RBI. It is just too bad that he can't play more than 120 games per year. If he could stay healthy he could be the next big star to play first base for St Louis. Once they get the center of their infield situated then the Cardinals should lock down a decent lineup.
The loss of Carpenter is really going to hurt a team that seems to be one good pitcher short. Adam Wainwright seemed to get better as the year went on. He seems fully recovered from injury and we should expect to see the pitcher we saw two years ago for the season. It seems lately that number two starter Jaime Garcia is more of a when is he going to get hurt rather than if he will get hurt. He had to get a fourth opinion just to get one doctor to give the go for him to skip surgery. Jake Westbrook is a decent player who can still get you outs when you need them. Lance Lynn had a 2012 that saw him go from All Star to demoted to the bullpen and back to a dominant starter. His arm strength should be better so he should give them a solid year throughout. The number five spot is the only question mark, something that wouldn't be an issue if Carpenter was healthy. They have to choose between prospect Shelby Miller or known long reliever Joe Kelly. Either wouldn't necessarily be a bad option, just a more unknown one.
Projected Finish:
3rd Place
Reason for Projection:
The Cardinals still have a very good team, but it is a very bad sign when injuries start to pile up before the season starts. You have to add that onto the players that will no doubt get hurt during the season. The pitching will be decent and if Jason Motte can close out games like we think he can they can steal a few that way. This will ultimately be a disappointing season for the Cards, but it will be something to work on towards next season. It isn't over for this team, but 2013 will not be their year.